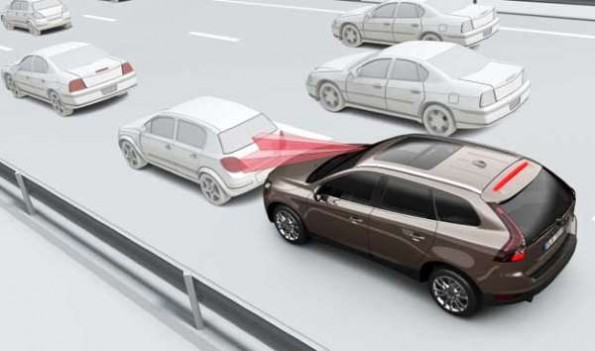 When you are buying a new car if you choose a car that has automatic braking (Autonomous Emergency Braking, or AEB) fitted as standard, and you are insured with Insurance Group Australia (IAG) then you will get a policy discount of up to 15 per cent. But there's a catch: if you choose the automatic braking as an optional extra, you won't get the discount. Practically speaking it would be too difficult for an insurance company to manage which vehicles have the option fitted and which don't.
This is sure to drive demand for certain vehicles that do, though, and therefore will encourage all manufacturers to fit the technology which only costs around $200 per vehicle for the manufacturer to include. However, they are often offered as part of a broader options package which includes radar cruise control and other features, and costs several thousand dollars retail.
The automatic braking systems work by analysing the road ahead. If it detects an obstacle that you are almost certain to hit if you don't brake, it will brake for you. It should help reduce some of the 80% of collisions that are low-speed, avoidable fender benders. This video shows how it works.
Many low speed collisions can cost five figures to repair – the bumper alone on some luxury cars can be as much as $10,000.
This technology is less about reducing the road toll and more about reducing minor injury crashes (especially whiplash injuries which can be temporarily debilitating), reducing the inconvenience of damaged vehicles being off the road, and improving traffic flows due to less disrupting accidents especially at peak times. The flow-on effects should be substantial in terms of productivity improvements and less stress on already overwhelmed hospital systems.
Current vehicles with AEB as standard are the C-Class Mercedes-Benz sedan and wagon, and all Volvo V40 models. But, if you buy a Subaru, the Subaru Eyesight system is not standard throughout the range so you may not qualify for the insurance discount.
The EU has mandated electronic stability control (ESC) on all vehicles as of 2015, and it's not unreasonable to assume that they will do the same for automatic braking systems and blind spot warning systems. ANCAP is already pushing for the technology to be included on new models.
ANCAP has already criticised Nissan for not offering automatic braking from its Qashqai SUVs in Australia and New Zealand whereas it is available across the whole range on the European-sold Qashqai. Nissan responded saying that the model was not offered to it by Nissan in Japan, so it was impossible to supply it with AEB. From 2018 vehicles must feature AEB to qualify for a five-star rating; this is four years after similar standards were introduced for EuroNCAP (the equivalent organisation in Europe).
Along with telematics, which could also reduce your vehicle insurance, drivers of older vehicles who value their privacy could start to be priced out of the insurance market.
Eventually all the technologies will merge to form an autonomous self-driving car and we won't have to be concerned with driving at all.
Panel beaters won't be rejoicing, though, as this kind of technology reduces their ability to make money.