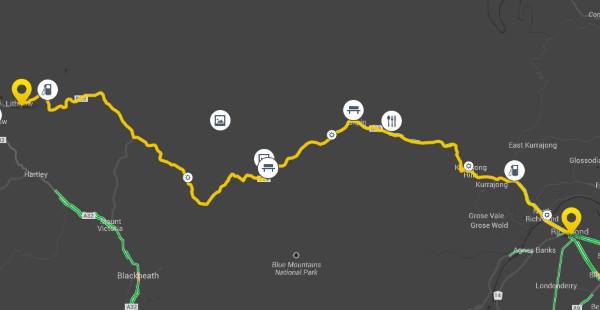 Last week Minister for Roads and Freight Duncan Gay launched the NSW Government's new motorcycle education campaign 'Ride to Live', to help motorcyclists and other motorists better identify and manage the issues, which put motorcyclists at risk. We've had a think about the campaign, which started yesterday and a really good play with the website, and have added some notes to Mr Gay's comments below. The website itself has a huge amount of information (albeit quite high level most of the time), but the interactive portions are not very user-friendly and kind of miss the mark.
Mr Gay said that the campaign is critical to help reduce the number of motorcycle deaths on the roads, a number that is unfortunately increasing.
"Our motorcycle community is growing at a rapid rate but unfortunately motorcycle fatalities are also on the rise," Mr Gay said.
"We know over the past ten years, we have significantly reduced the overall number of fatalities on NSW roads by more than 35 per cent but motorcyclist fatalities increased by 22 per cent.
This is an interesting statistic because Mr Gay omits to tell us how many more motorbikes there are on the road in the last 10 years. In general, vehicle safety has improved dramatically with more vehicles will airbags and a 5-star ANCAP crash test rating. But motorbike safety hasn't increased as dramatically. While there are more and more bikes with anti-lock brakes, a rider is still exposed in an accident as much as they were 10 years ago. While we should always been looking to reduce motorbike crashes overall (and hopefully eventually get them to zero), we don't know from this statistic whether they are trending downwards or upwards relatively.
"We've done a lot in this space over the last few months. In July, we introduced lane filtering, which we know can be safe if done properly."
Basically, the government legalised what was already being done by most motorcyclists, and put some guidelines around it, which is good, but not groundbreaking.
"We've also made the most of new technology and have been installing satellite phones along Putty Road, which is prone to serious crashes so help can be called in an emergency."
Again, good, and getting proper emergency care as quickly as possible can save lives.
The campaign was kicked off on 29 October at Customs House with three days of interactive motorcycle-focused activities for the community, including an on-site mechanic. TV, radio, online and bus advertising started yesterday. The campaigns aren't just aimed at motorbike users, but also build awareness for other road users.
"The 'Ride to Live' website is a useful information hub for motorcyclists and has everything from riding safety tips to hazard tests, you can get advice on selecting the right helmet and protective gear and on things like braking distances."
There is a lot of information on the website. They recommend our local CRASH website for evaluating helmet safety. We recommend that you also check out SHARP in the UK as there's a wider range of tested helmets.
"There are also interactive maps of some of the state's most popular riding routes with live traffic updates, an explanation of where recent crashes have occurred and where rest stops, petrol, food and accommodation can be found."
Yes – this is really good. You should check it out. You can look at a number of popular motorbike routes along with where recent crashes were, and where you can stop for food, fuel, a scenic view and accommodation.
Manager NSW Motorcycle Alliance Dave Cooke said a lot of work had gone into making sure the campaign was useful, relevant and sent the right message to riders.
"This campaign gets to the heart of what keeps us safe as motorcyclists – and that's making good decisions," Mr Cooke said.
"Good riders constantly assess risk – we are not risk takers – we are risk managers. Great motorcyclists make great decisions and that's the message of the campaign."
Secretary of the Motorcycle Council of NSW Brian Wood also welcomed the campaign, saying it provided riders with useful information on how to be safer on our roads.
"Motorcycling is continuing to grow across the state. To reduce the number of tragic motorcycle crashes, we need to further improve riders' risk management skills," Mr Wood said.
"This campaign is all about giving riders better information on what the risks are and practical strategies on how to deal with them."
Check out the campaign at ridetolive.com.au.
Original media release here.