Most people know how to hire a car – you see car hire places near airports and major tourist hubs – but how do you hire a much, much larger vehicle like a semitrailer, b-double or prime mover?
There are specialist companies that provide this service and they tend to be located nearer transport hubs, on routes that suit freight transport. The people that work there have much more in-depth knowledge about the vehicles they are hiring compared to a person who works at a car hire company. As prime movers and trailers are relatively more expensive to hire and must be suitable for the work, these people are invaluable as they can offer advice on the right vehicle for the job.
For truck and trailer hire, one example is TR Group who are located in Victoria, New South Wales and Queensland. They have around 1300 prime movers, heavy rigid vehicles, semitrailers and b-doubles.
Companies like TR Group enable a transport company to fulfill additional work without the huge investment of purchasing another truck or trailer; it keeps capital free for other things. They also have a range of trucks and trailers, which gives a company flexibility in the loads they can commit to, rather than them purchasing one truck and trailer which can only do one thing.
What do you need to know when hiring a heavy vehicle?
What vehicle do you need
Prime movers: what power train, how many axles, how many driven axles (e.g. 8×4 vs 4×2), type of cab, type of fifth wheel
Rigid trucks: size, body type (curtainside, refrigerated, flat deck, etc), coupling requirements
Trailers: combination type (semitrailer, pull trailer, b-double), trailer type (skeletal, curtainside, hardside, transporter, etc)
The staff at the hire company should be able to make recommendations to you if you tell them the type of materials you are carrying, the weights, the distances and as much other information as possible. They will then calculate the best truck and/or trailer in terms of price vs performance.
Customer support
What are the support contact details? Is there a 24/7 1800 number?
What are the maintenance requirements? What do you have to do during the hire (e.g. requirements for pre-start checks, maintaining fluid levels, etc). This is especially important if your hire is more than a few days. There may be requirements for wheel retorquing and checking tyre pressures at certain intervals.
What happens if the truck breaks down? Where can it be taken to and will there be a replacement truck available?
Who are the tyre contacts? Who do you call if you get a flat tyre? What's the process for cost recovery?
Hiring details
What's the minimum hire time? It can be as little as a day or up to a year
Where do you drop it off? Is it a one-way hire or does it have to be returned to the same place?
What's the insurance excess? Are you covered under your insurance?
What's considered fair wear and tear? Is there are charge for consumables, or is it all inclusive. What happens if minor wear and tear happens, such as a marker light fails or there's a minor scratch on the cant rail?
Is there any existing damage on the vehicle? Have you done a complete walkaround of the vehicle and noted any existing damage?
Are there any restrictions regarding where you can drive? Are there particular forbidden routes?
Are there any restrictions on what you can carry? Is the vehicle OK to carry the goods you need to carry, e.g. dangerous goods. Is it rated to carry the amount of weight you need to carry?
What do you need to take when hiring a heavy vehicle?
You'll need the appropriate licence type in order to pick up a heavy vehicle.
Load securing devices are not usually included (apart from racks and stanchions). You'll need to supply your own ratchet straps or chains and binders. Check at the hiring place if you need specific features like a mezzanine floor.
You'll need to provide anything you need for the sleeper cab.
Familiarisation with the vehicle
While you might have been driving for 30 years and think you've come across everything, newer trucks have a huge range of technology and driver aids. It's always worth spending 15 minutes to familiarise yourself with this technology, as well as making sure everything works.
If you're picking up a trailer, make sure the hiring team explains any features you are not familiar with. This might relate to things like how the reefer unit operates.
Before you drive away
Make sure the trailer is hooked up properly. If you need to familiarise yourself with this again, you can ask the hiring company to show you, or you can do this trailer connecting course.
Check the fuel levels for both the truck and the reefer unit (if applicable). Check the AdBlue levels.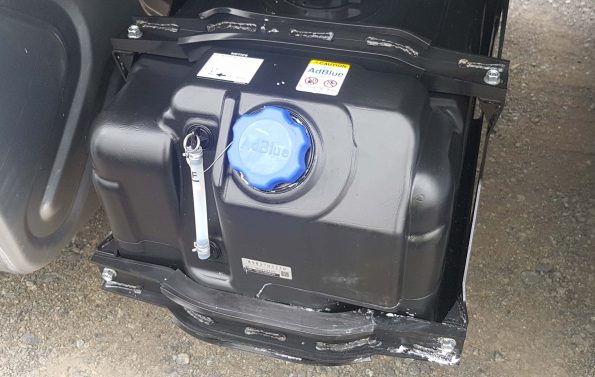 If you're not familiar with this particular model of truck, it's a good idea to understand where the blind spots are.
Check the truck is legal! This shouldn't have been overlooked if it's a hire company as they'll have them on a schedule.
Finally, adjust your mirrors and seat and connect your phone to the media system.