Semitrailers are the most common way to move freight around. Semitrailer is both the name of the trailer itself and the combination of prime mover plus semitrailer. It's also called an artic or articulated lorry in some countries, and also called a semi or single.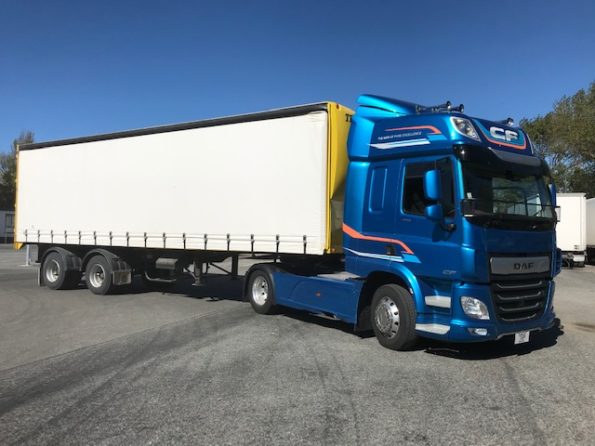 It's a prime mover connected by a fifth wheel and kingpin to a trailer that doesn't have front wheels. The combination most commonly has between 5 or 6 axles, but can have as few as 3 and as many as 8 (4 on the prime mover and 4 on the trailer). A 4-axle semitrailer is called a quad, a 3-axle is called a tri.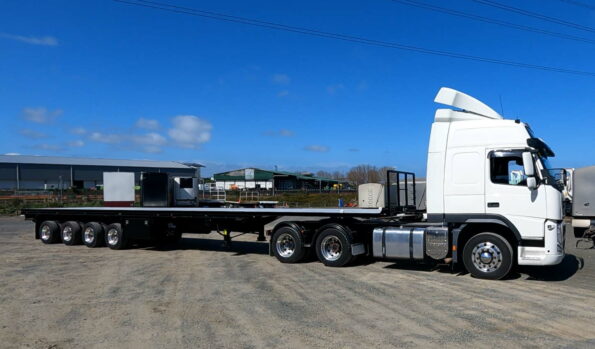 The prime mover or tractor unit tows the semitrailer. The driver backs the prime mover under the semitrailer, lining up the fifth wheel with the kingpin under the trailer. As this is channeled into the fifth wheel, locking jaws lock around the kingpin, meaning the trailer is coupled correctly. The driver does a tug test to verify this.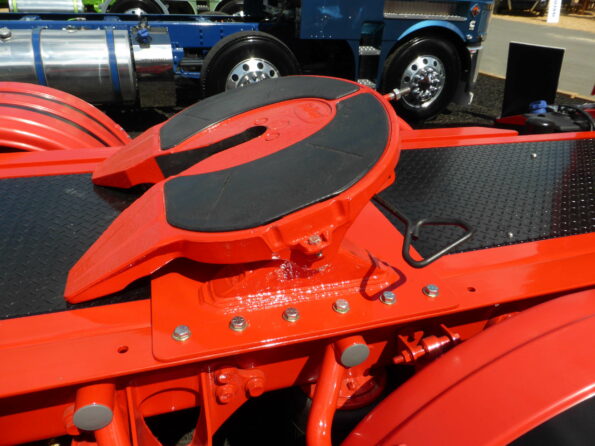 The maximum length is 19 metres and the maximum mass for a 6-axle combination is 42,500kg under GML, 43,500kg under CML and 45,500kg under HML.
The maximum height is 4.3m and the maximum width is 2.5m.
As a semitrailer combination is basically just a prime mover with one removable trailer, they come in many different varieties:
Hardside
Reefer (refrigerated)
Low-loader
Bottom dumper or live bottom
Trombone trailer
Panel trailer
Skeletal or semiskel
Tipulator or tipper
Advantages of a semitrailer over other types of truck
Easier to drive and reverse than a B-double.
Can be uncoupled and coupled quickly so that the driver doesn't have to wait while unloading (unlike with a rigid truck)
Has a longer continuous cargo length than a B-double or rigid truck
More flexible – one prime mover can pull all kinds of different semitrailers, but it's hard to repurpose a rigid truck.
Can be pulled by a rigid truck when using a trailer dolly connected to a bolt and pin coupling.
Ready market for resale and plenty of opportunities to purchase.
Prime mover can be used for accommodation on long journeys