Every company that operates a fleet of trucks must have a breakdown safety procedure because, regardless of how well a truck fleet is maintained, at some point there will be a flat tyre or an unexpected problem that means the truck has to park up and wait for assistance. There's an obligation under the health and safety legislation to train your drivers to minimise risks. It's known as TEBARS or Truck Emergency Breakdown and Roadside Safety.
In an emergency situation a truck might have no choice but to stop in a dangerous place, so following a system to identify, assess and control risks it critical to ensuring a driver or other road user isn't injured or killed. This article is for drivers and fleet managers who need to consider what their system is when the truck breaks down; tow truck drivers, mobile mechanics and mobile tyre suppliers will also need their own system of safety.
What should a driver do when a truck breaks down?
Get the vehicle off the road if possible, preferably at least 3 metres from any passing traffic, but make sure you park it in a stable location (i.e. not on a soft verge where you risk it rolling over).
Put the hazard warning lights on and make sure they're clean so they're visible from a good distance.
Exit the vehicle on the side away from passing traffic, wearing at minimum a hi-vis vest. If your trucks are yellow, use pink or orange vests and vice versa. Don't stand in front of your lights.
Place hazard warning triangles at the mandated distances (see below). If you have cones, use those, too. Don't use hazard warning triangles on a motorway as they will impede repair vehicles.
Contact your company via cellphone,  CB radio or GPS system to have them organise emergency repairs. Don't attempt repairs yourself unless you are authorised and can do so safely.
If the vehicle is in a dangerous position, has left slippery fluid on the road or is carrying dangerous goods that could cause a hazard, contact police for assistance.
If you can't get hold of your company, you may be able to get hold of nearby truck drivers on your CB who can relay a message, or a passing motorist may be able to help; provide a passing motorist written instructions.
Chock the wheels if you have had to stop on a hill.
If your load is time-sensitive, such as mixed concrete, chilled freight or livestock, you should have contingency plans.
Don't leave the truck unless absolutely essential.
Get the truck towed to a place where it can be repaired if attempting repairs on the side of the road will be too dangerous.
Recommended distances for reflective warning triangles
It's best to store your warning triangles on the left-hand side of your truck.
Light trucks and cars: 50-100m in front and behind
Heavy trucks (GVM of 12 tonnes or more): 200-250m in front and behind and at the side of the rear of the truck
Truck breakdown plan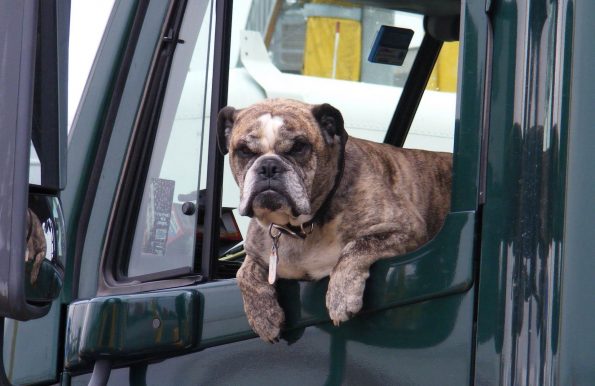 Your first point of call is your contacts for a heavy tow truck, breakdown repairs and tyre repairs. These mobile services can either get you up and running quickly or will get you to a place of repair quickly. Your company will let you know if they want to organise this or whether you should organise it. I.e. when you have an issue, does your company want you to call them first, or for you to sort it out. This will often depend on your contract with them and who owns the truck. Your company must have a policy on what repairs you are allowed to attempt. For example, if it's an easy fix, are you allowed to do this, or must you get an authorised repair person to come out and fix it. If you're in the middle of the outback, it's likely that you'll be required to fix a lot of issues that don't require high skill levels or heavy machinery.
Personal protective equipment
When you get out of your truck it's important you are visible to other road users. Get out on the opposite side to the traffic. High-visibility vests with reflective tape are a bare minimum requirement at night and are advisable during the day. What else does your company require, e.g. steel-capped boots?
Safety equipment
At minimum, you will need a torch and three emergency triangles to warn other road users. Chocks will stop the truck rolling away if you have to stop it on a slope. A good tool set will see you right with a multitude of minor problems. Carry some duct tape and towing ropes. If you do get stuck, a blanket or sleeping bag will keep you warm overnight, and you should have enough water or other liquid in the truck to last you enough time for someone to attend.
Notifications of delays and issues with the load
Your dispatcher or you should notify your clients of any delays. They may have forklift operators waiting to unload you into smaller consignments to deliver locally, in which case other trucks might be turning up. You need to ensure that you will not exceed your work hours – that means you must not exceed 12 hours in a 24-hour period.
If you are carrying livestock then you will need an animal welfare plan if the weather is hot. If you are carrying chemicals that require a specific temperature, you must let emergency services know if your temperature control unit fails. If you are carrying chilled goods and the chiller fails you may need to advise your client if the goods will be spoiled.
Truck breakdowns
You will usually get some warning that you need to pull over. E.g. the engine might start to lose power, or you hear a tyre burst (note: you might not hear a tyre delamination). You might be able to limp along until you find a suitable place to stop but if not, signal in the direction you're going to pull over. Don't use your hazard warning lights until you stop otherwise you might confuse motorists following you. Getting to the left of the road is best if you're on a dual carriageway, but don't rule out moving over to the right if the ground is firmer and you can make it without endangering other road users.
Move your truck as far out of the way of traffic as you can but be very careful of soft verges – if your tyres sink in you risk rolling the truck if the centre of gravity moves outside of the truck's footprint.
Put your hazard warning lights on. Turn off your high-beam headlights if you are parking at night. Chock your wheels if you are parked on a slope.
If you have caused a hazard behind you, report it to the local authorities if it's not an emergency (numbers vary from state to state, e.g. in NSW it's 13 17 00 and in Victoria it's 13 11 70). If it is an emergency and it immediately endangers other road users' lives, you must report it to police as soon as possible on 000. If it's not an emergency but you need police to attend, call 131 444.