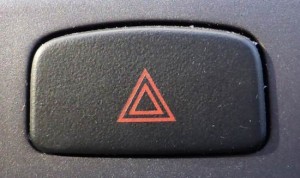 Your hazard warning lights are when all four indicators flash simultaneously. They can usually be activated by pushing the button that has a red triangle in it. The button is frequently located in the centre of the dashboard.
Hazard warning lights are orange/amber in colour, like the warning lights of maintenance vehicles. This keeps conformity with the lighting rules allowed on vehicles where red and blue denotes an emergency vehicle, and so on.
When you have activated your hazard warning lights you will see the green arrows in your dashboard flash in time with the lights and you will hear the click each time they activate.
You are only allowed to use your hazard warning lights when your vehicle presents a hazard to other road users or you are protecting another vehicle which is unable to use its hazard warning lights such as after an accident.
You must not use your hazard warning lights unless you are:
Stopped and obstructing the path of other vehicles or pedestrians – note that using your hazard warning lights doesn't mean you are allowed to park illegally such as in a no stopping zone
Slow-moving and obstructing other road users – if you are driving a vehicle that is not capable of keeping up with the traffic flow but is still entitled to be on the road
Stopped in an emergency stopping lane – this lets emergency services know that you require assistance
Stopped to sell a product such as food or refreshment
Driving in hazardous weather conditions – this makes you more visible if you are driving slowly in fog, for example.
Operating your anti-theft or alcohol interlock device.
A school bus dropping off or picking up children (in which case the lights should operate automatically).
Bear in mind that when your hazard warning lights are operating, your indicator won't operate.