Most people believe they are above average drivers, but statistics say otherwise. Numerous studies and statistical analyses have been published, and the following are the most risky drivers.
People who can't manage time
People who fail to plan their time effectively are frequently rushing around to try to complete things. This means they speed and take risks. They find it difficult to structure their time. When they get in the car they are in a rush and don't take the time to set the satellite navigation or radio before they set off, which causes a distraction when they are driving.
People who drive for work
People who drive for work generally spend more time on the road which increases their exposure. If their work vehicle is not the same as their personal vehicle they have to become familiar with its operation. While this eventually becomes second nature, it does form an initial extra thing to think about when driving. Even minor differences such as having the indicator stalk on the left rather than the right makes driving just that little bit more challenging. If the vehicle has a different width then parking scrapes might occur more frequently.
Work time also can be stressful time. Drivers are trying to make deliveries or get to meetings on time. They are preoccupied with meetings and phone calls. Emails will be coming in. There are more distractions during work time.
Young drivers
Young drivers lack experience, and young drivers who also drive for work are even more at risk.
Optimists
Optimists frequently don't leave enough time to complete tasks and end up rushing.
Blamers
People who are quick to blame others for their misfortune tend to learn much more slowly from previous mistakes and end up making those mistakes over and over. This includes driving habits that lead to accidents.
Hedonists
Hedonists live for the now and tend to have more accidents than people who are future-focused or past-focused people.
People who are easily distracted
A study by Virginia Tech Transportation of 3500 drivers found that the risk of an accident from doing what we might consider to be 'common' tasks behind the wheel was dramatically increased.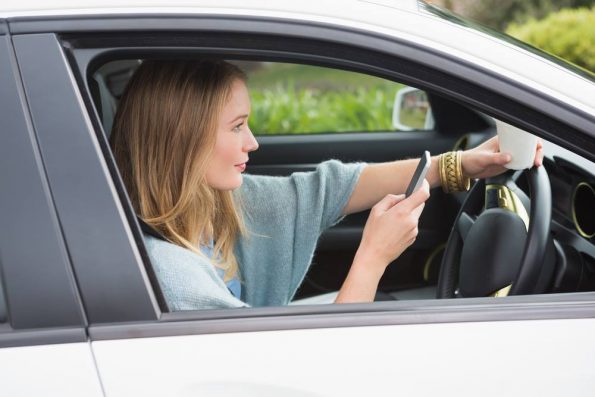 The Virginia Tech study showed the increase in risks for different types of distractions:
Drug or alcohol use: 35.9x
Dialling a mobile phone: 12.2x
Reading or writing: 9.9x
Anger, sadness or crying: 9.8x
Reaching for an object, e.g. in the glovebox, rear seat or passenger footwell: 9.1x
Extended glance: 7.1x
Texting: 6.1x
Reaching for mobile phone: 4.8x
Using satellite navigation: 4.6x
Drowsiness or fatigue: 3.4x
Adjusting the air conditioning or heating: 2.3x
Talking on mobile phone: 2.2x
Changing the radio: 1.9x
Eating: 1.8x
People who are down
The study also showed that people who are angry, sad or crying are more at risk of having an accident.
People with low awareness and empathy
People with low awareness often don't know what they've done wrong to cause an incident. If they have low empathy they care less about the results of their actions.
How do you reduce the risk of having an accident?
The main ways in a workplace are assessment, training, reducing exposure and ensuring vehicles are capable.
Assessment: all drivers should be assessed for their current driving skills and their personality. This won't necessarily be a 100% sure indicator that a driver will have an accident, but it will show where there is increased risk.
Training: drivers should regularly use the theory tests here, as well as undertake practical driver training and hazard awareness training
Reducing exposure: use teleconferencing if possible; walk to meetings if they aren't far; or decide not to have a meeting if it's not necessary
Safe vehicles: purchase vehicles that have as many safety features as possible such as electronic stability control, anti-lock brakes, electronic brake force distribution, blind spot monitoring, forward collision mitigation, driver drowsiness detection, reversing cameras and sensors, and adaptive cruise control.