If you're thinking of buying a car you'll need to get acquainted with the rapidly evolving array of technology and features available, some of which improve safety and others that increase comfort or convenience.
Front-mounted cameras

Front-mounted cameras are rare, and only usually on very large cars such as the Toyota Land Cruiser Prado (as shown), the Range Rover Sport or the BMW 7 Series. It serves two function. In the Land Cruiser it allows you to work your way through terrain while having a much better view of what you're driving into – there's even a side camera to show you how close you are to objects on your left (good for parking next to kerbs). The other function is to be able to nose out of traffic and see up the road each way where vehicles might be obstructing your view. For a car with a long nose like a BMW 7 Series, this is useful.
Reversing camera with guidelines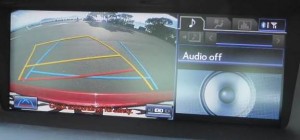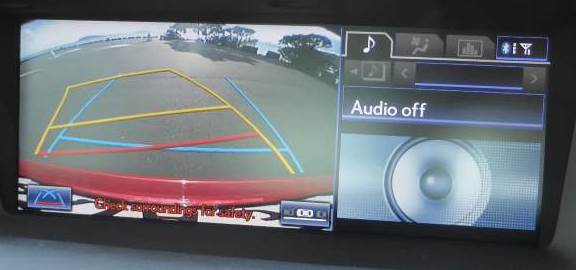 Reversing cameras with guidelines are becoming mainstream now, but not all of them curve as you turn the steering wheel. This Lexus system shows you your trajectory using the yellow lines. If you turn the steering wheel the other way, the lines will move as you move the steering wheel.
The camera will display either on a screen in the dashboard or within the rear-view mirror.
Seat heating and cooling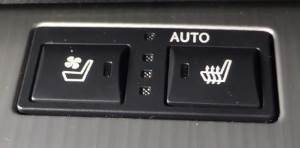 Many models of car have had heated seats for some time, but cooled seats are less common. Basic seat heating consists of a heating element usually just in the seat squab which heats up. Often they have a timer or a thermostat which causes them to switch off. Some vehicles have several heat settings from just a mild heat through to very warm. Some models extend the heating element into the back of the seat, too.
Seat cooling is becoming more common and can even be had on some fairly cheap Kia models. One or more fans in the seat blow cooling air through perforations in the fabric. This can mean less stickiness on your legs and back when the weather is hot.
Heated steering wheel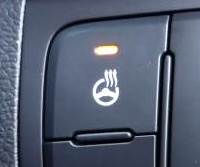 Perhaps one of our favourite features in winter is the heated steering wheel. The steering wheel is heated usually just in the top half where you will be holding it. Often these systems work on a timer and heat the wheel for a number of minutes before turning off. Heated wheels are available as a cost option on many premium model cars, and it's not so common as standard.
Apps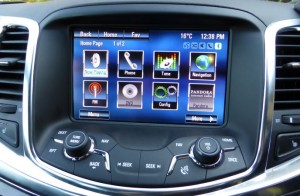 It won't be long before we see mainstream adoption of apps within vehicles. iPods are already universally catered for, but Holden goes one step further. If you plug in your iPhone using USB then you can access Pandora and Stitcher music streaming apps. Holden's MyLink system also supports Siri Eyes-Free which gives you control of your phone using Siri voice commands.
Rear air conditioning
Passenger comfort (especially when the passengers are children who can get tetchy quickly) is important for the driver. Rear air conditioning helps keep kids (and grown up kids) comfortable when the temperatures are more extreme outside the car. Some systems are quite complex with settings for each rear seat passenger, like the one below from a Toyota Land Cruiser, while others just have a simple setting that covers the whole of the rear passenger area.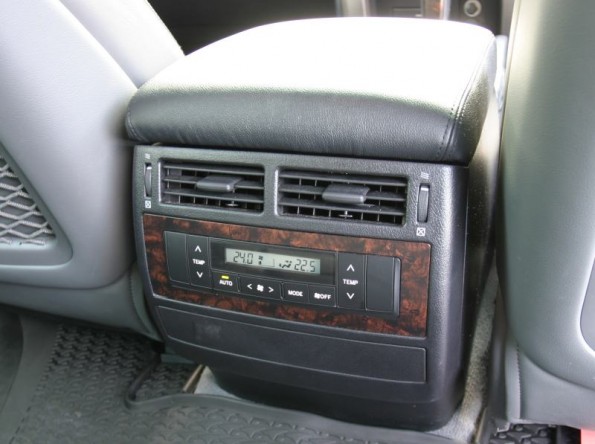 Electric rear seats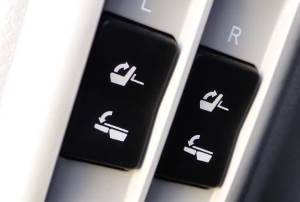 Electric rear seats can either be a convenience for loading or, on luxurious cars, can provide reclining and other features (check out the image below from the $300,000 Lexus LS600h – it even has vibrating massage!) The image on the left shows a function that flattens the third row of seats in a 7-seat SUV so that the boot space is increased.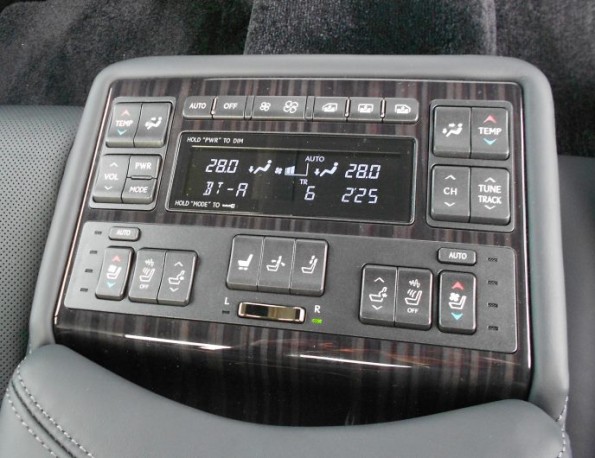 Heated rear seats
As you can see from the image above of the Lexus LS600h, some vehicles are starting to get heated rear seats, too. This is most commonly offered as an option on more luxurious vehicles such as Range Rovers, but is also an option in the Toyota Land Cruise Prado (as mentioned above, too).
Multi-adjust electric seats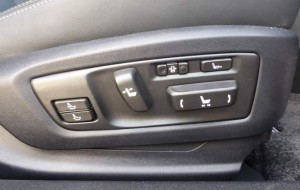 These controls come from a Lexus GS300 and encompass almost everything about the seat except the headrest. Of course, if you plump for the $300,000 LS600hL, then you get headrest adjustment, but you can also get it on various Mercedes-Benz models that are sub-$100,000.
Automatic headlights
Automatically dimming headlights are starting to become more reliable. They detect when a car is coming towards you, or if you are following a car and will automatically dip the headlights to avoid dazzling them. This feature still is not 100% foolproof and if you drive a car with it you'll find that sometimes it doesn't detect the other car and it also can't anticipate when a car is coming. We think it's best if you always control your full beam headlights.
More tech
Remember also to check out our previous article with 10 more systems and features you should know about.