At traffic lights there is often a buried coil of wire just behind the give way line called an induction loop traffic detector that detects large metal objects immediately above, such as a car or truck. They are used to detect if traffic is waiting so that priority is given to the main route through, particularly on side roads. They can also be used to instruct ramp metering onto motorways much further ahead as they are useful in detecting traffic queues.
Unfortunately they're sometimes not set up to be sensitive enough to detect a small motorbike, scooter or bicycle and that can leave riders stranded there for several minutes while they wait for a larger vehicle to arrive – something that can be frustrating at night when there's not much traffic around.
What does the induction loop traffic detector look like?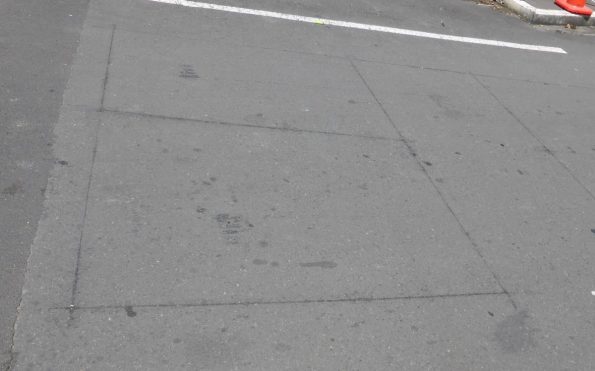 You'll see cuts in the tarmac where the loop has been installed. A contractor will use a skill saw to cut a groove into which the wire loop is laid then covered in sealant. They are usually rectangles set about a metre back from the line, extending back up to a couple of metres.
How do traffic light sensors work?
When a vehicle passes over it, a disturbance is created in the electrical current in the loop, and this is picked up by a controller which relays the signal to the circuit that controls the traffic light. The controller will either be buried next to the road, accessible via a small plate, or it'll be in an inconspicuous box by the side of the road.
There's usually a delay from when you arrive at the loop until the traffic light changes. This is for practical reasons – it allows for other vehicles to join the queue from the quiet side street, minimising disruption to the flow on the main road.
What should you do if the lights don't change?
The loop often starts about one metre back from the line, so make sure you are not parked too far forward. You should have the engine over the loop as it's the biggest lump of metal with the most chance of being detected.
Cyclists and scooter riders who might not be able to activate the loop could dismount and use any pedestrian crossing, pushing their bike across.
If you move further forward and allow another vehicle to move in behind you, it might trigger the loop.
Roads and Maritime has detailed instructions for the installation of vehicle and bicycle detection loops.