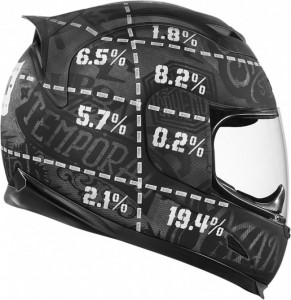 In 1976 Professor Harry Hurt conducted a motorcycle safety study in the USA at the bequest of the Department of Transportation's National Highway Traffic Safety Administration (NHTSA). The study, called Motorcycle Accident Cause Factors and Identification of Countermeasures, Volume 1: Technical Report, or the Hurt Report for short, was published in 1981 and delivered 55 key findings about motorbike accidents.
Some of these findings are displayed very candidly on this helmet by Icon Airframe. It shows you where the most likely point of impact will be in an accident.
Motorcyclists are often in two camps: ones that wear the right safety gear all of the time (helmet, boots, jacket, trousers and gloves), and ones that just wear a helmet. Some riders prefer an open face helmet while others want the added protection of a full-face helmet.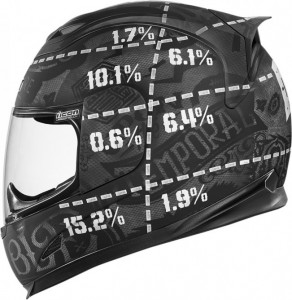 Seeing the Icon Airframe, though, is a sobering image for those who prefer open face helmets. Around 35% of the time, the point of impact will be the rider's chin.  It's possible to find some truly horrific images of people's facial injuries after accidents sustained while wearing an open face helmet, including the complete destruction of the lower jaw.
As the study was done in America where they ride on the right, it's possible the statistics might be flipped left to right for Australia as we ride on the left. The fact that more hits are made on the right hand side of the helmet is possibly because many motorcycle accidents are caused by vehicles pulling out of side streets, and that would be from the right in the USA. The top of the helmet only sustains an impact in 0.4% of cases.
The Hurt Report showed that helmets clearly significantly reduce deaths and brain injuries without any increased risk of accident involvement or brain injury.
To pick the right motorbike helmet for you, check out our guide here.