If you break down, get a flat tyre or need to fix something to make your vehicle safe, having the right tools is essential. You don't need many.
All vehicle drivers
Screwdrivers
Things work their way loose with the vibrations of being on the road. Take a couple of different sized Philips and flathead screwdrivers. The flathead screwdrivers can also be used to pry things open.
Pliers
You might need to grip onto something in an awkward place, and pliers are the best tool for this.
Socket set
A small socket set with the main sizes can help you tighten up or repair things like your lights (for example, in a VW Golf, you need one to replace a lightbulb). Allen keys can be useful, too
Spare headlight and taillight bulb
Just in case one blows, you can replace it quite quickly.
Jack
This should be part of your vehicle's toolkit. If it's been misplaced, get another one otherwise you won't be able to change a flat tyre.
Spare tyre or puncture repair kit
For cars, a spare wheel or space saver wheel is usually included, but if not, you can purchase a can of expanding foam which will temporarily replace a tyre (if it's not too badly damaged)
Tyre pressure gauge and depth gauge
Useful for checking your tyres aren't under- or over-inflated, both of which are dangerous, plus you'll want to check the tread depth periodically.
Knife
You might need to cut a seatbelt if you have an accident. Knives are useful for a variety of purposes.
Cloth, rag or paper towels
If you need to clean up any fluid, check the oil or wipe your hands, a cloth is useful.
Emergency kit
If you often drive in remote areas or at night when help might be a while away, an emergency kit is advised.
Jumper/booster cables
If you get a flat battery, booster cables will get you started again. Make sure you buy the right ones for the type of battery you have.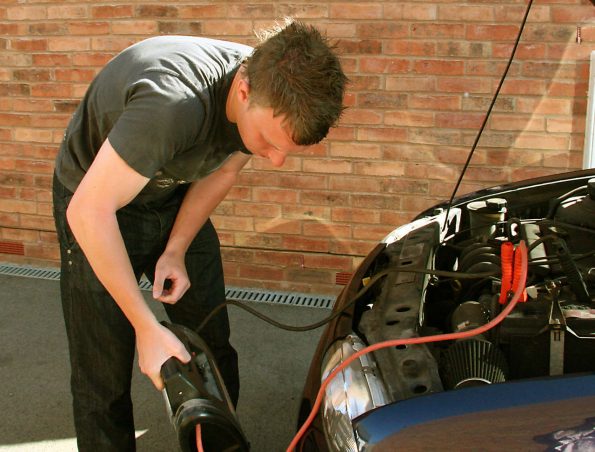 Emergency flares, emergency triangle, hi-vis vest and a torch
If you break down at night, visibility is the most important thing so that other vehicles don't run into you. You'll also want to see if you can fix anything. A head torch is better than a torch as you'll have both hands free.
Fire extinguisher
These aren't essential – the usual advice is to get away from the car rather than put yourself in danger fighting a fire. Plus, they can be expensive and need to be replaced regularly. They must be securely fastened in the vehicle so that they don't become a missile.
Snow supplies
If you drive in snow, anti-freeze, de-icer, a snow shovel, snow chains and traction mats are advised.
Extra items for truck drivers
Rubber mallet
These are really useful for checking your tyres in a pre-trip inspection.
Gloves
Great for a pre-trip inspection so that you don't transfer any dirt from your pre-trip inspection into your cab.
Fluids
Some spare engine oil, washer fluid, coolant and other fluids could help if you're stranded in the middle of nowhere. Plus, some water for you to drink.
Bungy cords, cable ties, ratchet straps and gaffer tape
Helpful if you need to make a temporary fix or secure something in the cab.