We're not talking about a few sheets of plywood on your roof rack, we're talking about prime movers transporting massive infrastructure for mining and civil construction, earthmoving equipment, boats bridge components and turbine blades; agricultural machines such large tractors, harvesters and grain augers; and special purpose vehicles such as concrete pump trucks, drilling rigs and mobile cranes.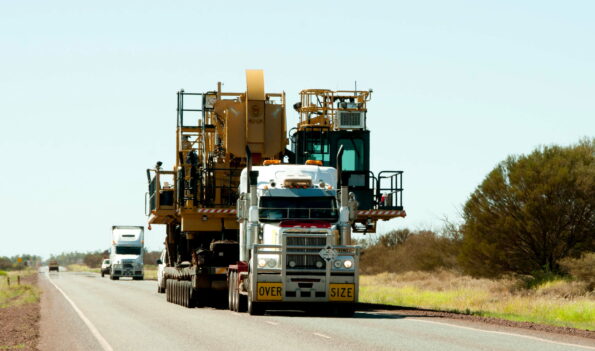 They collectively fall under the oversize and/or overmass (OSOM) vehicles legislation.
All the provisions for load security apply whatever size load you are carrying, and you'll need a vehicle capable of carrying the items, but let's look at the permit requirements. The permits might vary a little from state to state, so check your local government website: this is based on the NSW legislation and requirements.
OSOM vehicles are Class 1 vehicles under the Heavy Vehicle National Law. A vehicle or combination that exceeds limits for either mass or dimension is considered to be OSOM. Basic dimension limits are 2.5m wide and 4.3m high, with 19m maximum length as a combination or 12.5m as a rigid vehicle. As we have a wide variety of multicombination vehicles, the length calculation is more complex.
Some vehicles in this category are eligible to operate under a Class 1 Notice or Ministerial Order. This allows categories of eligible vehicles to use the road network when complying with specific route restrictions and maximum weights, dimensions and operating conditions.
Access permits
If your vehicle or combination does not comply with the dimension or mass limits in a Class 1 Notice or Ministerial Order, you will need an access permit to legally operate on the road.
If you need to cross into other states, you'll need an intrastate or interstate permit which must be submitted through the NHVR portal.
Permits cost money, for example, 1 cent per kilometer per tonne over the statutory mass limit.
Transport Management Plans (TMP)
A TMP is a document that describes in detail the plan, procedures and operational activities required to safely carry out an OSOM trip. You need a TMP when your trip is classed as high risk, you travel on a high risk route or you're transporting a critical/sensitive load.
High risk loads
Each state has its own OSOM risk table based on length, height, rear overhang, forward projection, width and combination weight, for example in NSW:
Length is greater than 40 metres on a single carriageway or 50 metres on a dual carriageway
Height is greater than 5.2 metres and within 200mm of an overhead structure
Rear overhang is greater than 7.5 metres, or 10 metres if it's an agricultural machine
Forward projection is greater than 5.5 metres, or 6.5 metres if it's a mobile crane
Combination weight exceeds 150 tonnes.