A cardan shaft park brake is a type of park brake fitted to some small, medium and heavy trucks (although, mostly small trucks). Some telehandlers and other commercial vehicles have them. You can usually recognise them by their handle which is similar to a car's handbrake, and it makes the same ratchet noise when you pull the handle up.
These brakes work on the driveshaft, not the wheel, and they are prone to failure. These failures have caused damage to property, injuries and death.
A common cause of failure is exceeding the capability of the brake by:
parking on a steep slope when heavily loaded
altering the weight of the vehicle while parked on a slope, e.g. loading equipment into the vehicle once the park brake is set
using truck-mounted equipment such as a crane
filling or emptying a truck-mounted tank.
Loss of traction or grip on one of the rear wheels can cause the truck to roll away. The brake acts on the driveshaft which means that the differential could still allow one wheel to rotate freely. This is why it's important not to park with one wheel on slippery grass while the is on tarmac.
When the truck is fully loaded, some drivers are not physically capable of pulling the handbrake on tight enough to prevent the truck from moving. In some cases, the brake lever could require up to 60kg of force.
These types of brakes are prone to becoming loose because of the cable stretching, or becoming less effective due to wear or misalignment of the brake mechanism. Wear of the friction material can be caused by driving the truck without fully disengaging the parking brake, or by engaging it while it's still moving (which can also damage the brake).
If the engine leaks oil onto the brake via a leaking engine or transmission seal, it will reduce the braking effectiveness.
Are cardan brakes ever safe?
If the driver is aware of the limitations and maintains the brake correctly, a cardan shaft brake can be effective. It's advised to use a wheel chock on either side of one of the rear wheels that is at least 25% of the diameter of the tyre.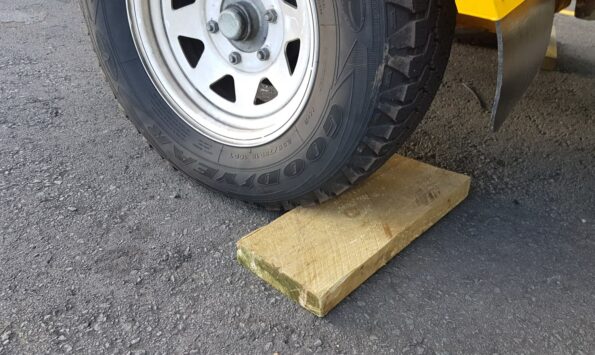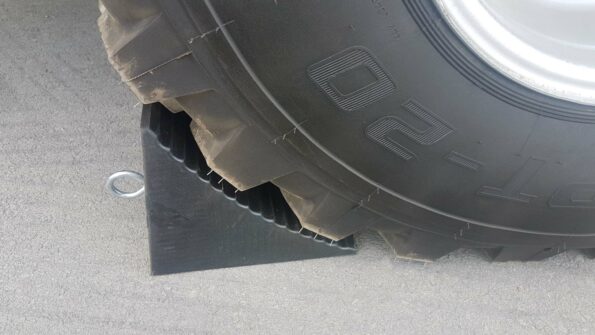 The brake should be checked when the vehicle is serviced.
All drivers of that vehicle should be trained in its use.
When parking, avoid pointing the truck towards people working in case the brake fails.