Once you start driving you'll find yourself in places you don't recognise and you will need to navigate your way safely. If you grew up in the country, like I did, you'll know there's a lack of street signs and street lighting, and you can end up driving for ages until you realise you've taken the wrong road.
When the conditions are clear and dry, navigating is much easier; when it's dark and foggy or raining torrentially it's much more challenging. It's always good to know several ways of navigating just in case one of your ways fails.
For motorbikes a sat nav is a more difficult proposition than for cars and trucks, but I cover those off at the end.
Major roads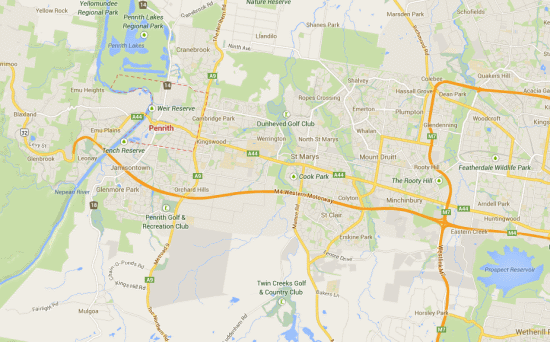 If you know names of the major highways or roads that surround the general area you live, you can drive until you come across one and you will know roughly where you are. It's good to know roughly a wide ring around the general areas you travel.
The roads are designated as three main types: Motorways (M routes), routes of national significance (A routes) and routes of state significance (B routes). For example, if you live in Penrith and most of your friends are between Penrith and Parramatta you'll want to know roads that will get you in and out of Sydney like the A44 and the M4 Western Motorway, but also where the major arteries are out to other places, such as National Route 32 to Katoomba, routes 18 and 12 to Campbelltown and the A9 (to Windsor) and B59 up to Richmond. That would be the absolute minimum knowledge I would want before driving anywhere around there with no map.
Perhaps the M7, M5 and M2 would be useful, too, because they encapsulate a large area of Sydney.
Major suburbs, towns or villages
Outside of the cities this is much easier because there are far fewer roads connecting places. However, there are less signs and worse lighting out of the city, so it's a good idea to know all major towns within a 30-50km radius of where you live as they'll be the ones signposted.
In the cities, learn the major suburbs that are on the major roads you already know. Then you can aim for those and ask directions if you need to.
Landmarks
In the daytime landmarks can help. If you know you're looking at the Blue Mountains and facing west (because you should understand where the sun is), then you can start making educated guesses about which way to turn. In the city itself, know where the tall buildings are like the Sydney Tower, or the 90-storey Aspire skyscraper that's planned for Parramatta, or Mount Piper Chimney in Lithgow.
Use the sun
I already mentioned using the sun when looking for landmarks. It's always going to be in the north in Australia. It rises in the east and sets in the west.
Ask directions
If you are a guy, I know this will be hard to admit, but you can stop and ask for directions. Service stations are usually the best place as they'll have a map. Pubs can be entertaining places to get directions, but not always reliable.
If you don't feel safe asking for directions, then drive until you can find somewhere you do feel safe.
Of course, when you get directions from someone you will only remember the first couple of turns unless you write it down. Also make sure that the person you're asking directions from explains any specific landmarks you're looking for. They might know it as the second left after the bridge – but what kind of bridge is it?
Remember places you've passed
Try to remember specific landmarks as you pass them so that you can backtrack if you need to and recognise where you've been. It also means you can describe to someone else where you've come from. Landmarks can give you clues about your location, too. Often industrial buildings will have location information on them. If you're travelling at night you can aim for specific illuminated areas. This is useful especially in poor weather where you might not be able to see ahead very far.
Expand your routes
Occasionally you'll get caught out with no map and there'll be a detour because of a natural disaster like a tree across the road or a landslip. They won't necessarily be signposted if they've only just happened. If they are signposted you'll just hit the same traffic as everyone else that's being detoured. By varying your route occasionally you'll learn new ways to get places and you'll be able to bypass the detours and find a quicker way.
Your brain will eventually be able to put routes together quickly and you'll get to know which routes are quickest at certain times of the day.
Be aware of the time
Know how long your journey is expected to take under normal driving conditions.
Take directions
If you already know where you are supposed to go you can print out a list of directions from Google Maps, or you can write down the turns you are supposed to take with the number of kilometres between each turn. Remember to zero your odometer when you set off.
Use a physical map
Map reading a physical map is a skill that takes a little practice, but it's useful in the event you don't have a sat nav or there's no phone coverage. Aligning the map in the direction you are travelling can help you figure it out. Check the scale, too. It'll let you know how long you need to travel between turns.
Use your vehicle's satellite navigation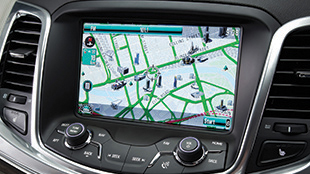 It's best to stop the vehicle before entering the destination otherwise you'll need to take your eyes off the road.  They're never 100% accurate so don't let it navigate you the wrong way down a motorway – use your common sense and follow road signs. The good thing is that if you take a wrong turn it will recalculate for you. The image shows the MyLink satellite navigation on a Holden Commodore.
Use your phone's satellite navigation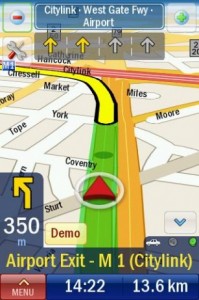 This option can work for motorbikes because you can use earphones and using, for example, Google Maps, you can have it read the directions to you. It requires a smartphone and a data plan, but they're fairly cheap nowadays. Again, make sure you are not moving while you program your destination, and be aware that it might not be 100% accurate. The screenshot is for an Android app called Co-Pilot Live Australia and NZ.
Now you have a large number of navigation tools at your disposal. Happy travels!