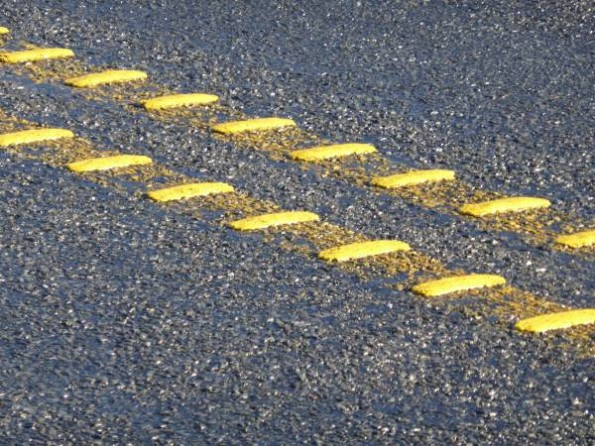 Raised profile line marking is a type of road marking that generates a noise and vibration when a vehicle's tyre rolls over it. It's also called a rumble strip. It consists of a painted line (which can be white or yellow) with raised markings. The frequency of the markings affects the frequency of the sound generated when a vehicle's tyre comes in contact with it.
It can be used to mark the left lane to help drivers know if they are drifting left (especially where the verge is either soft or non-existent), and on the centre lane to help stop drivers drifting across into opposing traffic.
They are useful to alert sleepy drivers who might have fallen asleep at the wheel, or drivers who are distracted and drifting within the lane. When used in the centre line they can help reinforce no passing rules. In fog, when the line is less visible, they provide tactile and auditory feedback of the lane.
Because it's irritating to a driver to drive on them continuously the lines have a longer life and therefore lower maintenance costs; lines that are driven over regularly wear off quickly.
In wet weather at night they provide better visibility of the line.
They are applied by a machine that can mark a base line while simultaneously applying transverse ribs of thermoplastic at regular intervals. The marking is completed by a surface application of solid glass beads. The lines dry very quickly when applied – within 10 minutes if the air temperature is 15 degrees Celsius or above.
Roads and Maritime doesn't usually install raised profile line markings within approximately 200m of residences, and it consults with local residents within 500m of proposed markings.