How reversing cameras and sensors developed
As soon as vehicles were invented there was the need to manoeuvre them in reverse. The first vehicles were open and therefore it was easy to see behind, but as vehicles became more complex and larger, they became more challenging to reverse. Rear view mirrors were introduced, but these are inadequate for seeing immediately behind the car. Engineers began to propose simple reversing systems that would help with detecting objects behind the car in what is often called the 'killing zone' because it is particularly dangerous for small children.
The first of these sensors were simple kerb sensors introduced around the 1950s. These consisted of a flexible wand which, on coming into contact with an object, created an audible tone in the vehicle. These were primarily parking sensors, though, detecting how close a wheel was to the kerb. They didn't help much with other types of reversing.
Vehicle manufacturers experimented with several other types of solutions through the 1970s and early 1980s. These were designed to scan or monitor behind the car and alert the driver if there's an object.
Ultrasonic
Sensors embedded in the bumper emit high-frequency acoustic pulses and monitor the reflected sound. The time interval is used to calculate the object's distance. As the object approaches an acoustic tone is varied to indicate proximity. As ultrasonic system use sound waves they can suffer from interference, and are also not that effective on small, narrow objects such as poles. They are also affected by rain and wind.
Laser
Laser beams are fired and reflected off objects. These work more accurately than ultrasound, but in a much narrower beam meaning many more of them were needed to cover the monitored area. This made the solution too expensive.
Infrared
Using the infrared visual spectrum was not very successful, suffering from bad reflections and absorption by certain types of objects.
Cameras
Cameras were first displayed in a Buick Centurion concept car in 1953, but were too expensive. Until the advent of cheap colour LCDs, having a CRT-based monitor in the dashboard was unwieldy, too big, and drew too much power.
Modern systems
Modern systems consist of one or more of the following:
Rear sensors
Front sensors
Side sensors
Rear-facing camera with up to three viewing modes
Wing mirror cameras (see BMW 650i photo below)
Front-facing camera
Graphical representations of object proximity using the sensors
Camera display in the dashboard, rear-view mirror or separate screen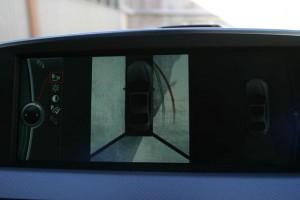 Vehicles with additional features such as blind spot warning, rear cross traffic alert and automatic parking will have side sensors. Cars with cameras facing down on the wing mirrors can provide a faux all-round view with guidelines depending on the angle of the steering wheel. Some vehicles, such as the Honda Accord, have three different views with the camera allowing for a far, medium and close image, with the close image looking almost vertically downwards.
Why use reversing cameras and sensors?
The gradual feature creep by vehicle manufacturers as they try to outdo one another means that each iteration of a vehicle tends to have better equipment. Manufacturers are also trying to improve safety, and use safety as a key selling point. There is also a trend towards automated features which will culminate in driverless vehicles, and these require cameras and sensors.
Safety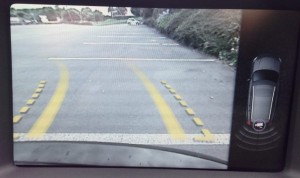 Modern vehicle design tends to include thick rear pillars and smaller rear windshields to improve rear impact protection. This reduces visibility. Cameras and sensors restore visibility and, particularly in the case of at-risk toddlers or pets in a driveway, can make reversing much safer. This image is from a Volvo V60.
Driver confidence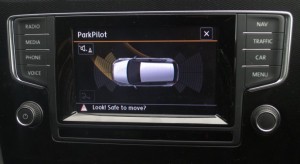 Including rear sensors and reversing cameras makes drivers more able to park in tighter spaces with less fear of hitting a vehicle. Most vehicles with sensors will give a tone that beeps as you approach the object. The beeping becomes more rapid until, at around 20cm away, the tone becomes solid. This gives drivers a good audible indication of distance.
Many systems will overlay graphics onto the camera image which gives an idea of distance. Systems only with sensors sometimes have graphical representations of where the object is. The image above is from a VW Golf GTI and shows that as you put the vehicle into forward gear, the focus of the sensors moves to those on the front of the car.
Using reversing cameras and sensors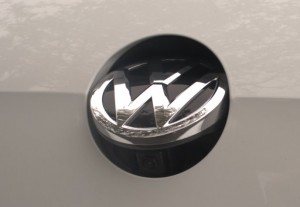 Having a camera and sensors is not an excuse not to look. You should still be using your mirrors and looking over your shoulders into your blind spots. Even though the camera will provide a reasonable field of vision often the image is slightly distorted and it's difficult to judge distances. You also will not necessarily give a view of what is coming from the sides, unless you have a system like rear cross traffic alert which scans each way for vehicles.
The cameras can become dirty or fogged. Ensure you wipe them periodically to keep them clean. Some vehicles such as newer Volkswagens have a camera that is hidden behind the badge to protect it from dirt.
Retrofitting cameras and sensors to older vehicles
A good selection of easy-to-install third-party reversing cameras is available from retailers like Amazon by clicking here. You can also try your local vehicle dealership or electronics store.
Rules for reversing
Always check your mirrors and over your shoulder before reversing. If you can't see behind your vehicle, walk around and check there are no obstructions – too many toddlers are killed and injured in driveway accidents each year due to vehicles reversing into them.
It's more difficult to control your vehicle when reversing than driving forwards, so you should never reverse for any more distance than is necessary.