A company vehicle needs to suit your budget, requirements and image, as well as being safe on the road. Here are some guidelines plus how other companies have evaluated their fleet.
Matthew Ross, co-owner The Slumber Yard took into consideration the tax implications of his purchase of Ford trucks.
"My business partner and I purchased new company cars last year. We shopped around for quite a while but ultimately we decided on new Ford trucks. We went this route because the trucks weigh over 6,000 pounds, which qualifies us for the section 179 tax deduction. Essentially, because the trucks are so heavy, section 179 of the tax code allowed us to deduct the full purchase price in year one. That was big for us. We wanted the expense in the same year instead of spreading the depreciation over several years."
To understand your tax obligations, you should talk to your accountant or download guidelines from the Australian Taxation Office. They have issued information on vehicles exempt from fringe benefits tax, for example.
Kyle Gray from Animal Transportation Worldwide had a bad experience with reliability on one type of vehicle, so the warranty on the new vehicles was really important.
"We started our original journey of buying Dodge Ram Promaster in 2018. That resulted in a $40,000 investment per van with a $25,000 install of our system for the Pet Transportation company. Fast forward two vans and six months later and both vans are now no longer in service and are unfixable due to computer chip issues that even when replacing the part completely does not fix the issue. With that being said we had to make a choice on what to do next. Our local options for cargo vans are Ford, Dodge Ram, Mercedes and Nissan. Due to the past record, we did not want to be buying a Dodge Ram. We originally got the Ram for the fuel economy; when it was working it was getting about 24 to 27 MPG. In the end, with another $20,000 of repairs into each van, we could not keep up. A Nissan van would not work for us because it's more like a Mini Van with a very high roof. Then we have Ford and Mercedes. Mercedes has a van very similar to Dodge. They also are around $60,000 vs Ford at $50,000. MPG on the Ford and Mercedes is around 15 to 20 MPG. At the end of the day, we went with Ford. Why? When the vans break down Ford has a 3-year unlimited mile warranty, compared to any other company with a 1-year warranty. That is huge and they are able to fix their vans when problems occur."
Checking the warranty terms and conditions is important. Some warranty exemptions may apply if you use the vehicle for work or if you modify it for specific requirements.
Nathan Outlaw from Onvico also went with Ford.
"We are a general contracting and design-build company. We chose to use the Ford truck series for our company vehicles due to several reasons:
Reliability. We have found Ford to have reliable trucks that we can put some heavy mileage on. We don't like to replace trucks until they get 160,000+ miles and prefer to get over 200,000 if we can. With that in mind, we wanted something that wouldn't be off the road in repairs much.
Ease of fixing. By keeping to a single truck line we are able to pick mechanic services specific to Ford and can efficiently work on our vehicles. This also seems to be the line that most people in our company preferred so we know that anyone can do small maintenance if absolutely necessary.
Resale and trade-in value. We have found that we seem to get more money back in Ford trucks than we do in similar trucks with other brands.
Good-looking trucks. Due to how long we end up keeping some of our vehicles we wanted something that would remain good-looking over several years. The clean lines and boxy look of Ford trucks isn't something we need to worry about going out of style or looking dated which allows us to always present a professional image.
Trim and options. Ford has a wide variety of truck and trim options depending on the needs of the driver. We can get an XL for the heavy and dirty work and get a Lariat for an engineer or PM who won't be down in the mud."
Resale value is important as the money you recoup from selling your vehicles will help fund the next round of vehicles. Of course, if you lease your vehicles then you are not too concerned with resale value.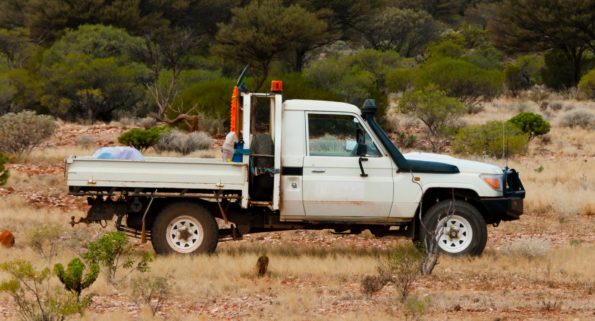 Image and fashion
If image is important to your company then choosing the right look will deliver a positive impression to your clients. As Nathan outlined, getting a vehicle that won't go out-of-date quickly is sensible. Avoiding vehicle designs that are hyper-fashionable and could age within a year or two doesn't make sense.
It might be fashionable in your industry to buy an EV, but is it practical.
New model vs last year's model
When choosing the vehicle, research whether a new model is due out; while this might give you an opportunity to get run-out prices, it does mean that your model will be superseded by a newer one, but if the new one is simply a facelift, there might not be much difference in the look or features.
Locations and servicing
Some areas might not have a dealer for the brand of vehicle you want. How willing are you to travel long distances in order to get it serviced?
Accessories and customisation
Do you need anything added like roo bars, racks and cages, tow bar, etc, and does the vehicle support the towing or carrying capacity you require? Are the modifications possible with your vehicle and is there someone locally who can do it? Will it affect the warranty? Does the price of the accessories fit with your budget?