The police campaign to fine drivers with 5-post bull bars has been halted while a working group has negotiated a two-year reprieve. Police and others are concerned that the radical design of some of the bull bars compromises pedestrian safety and defeats driver and occupant safety features such as airbags and crumple zones. Residents of rural areas, on the other hand, are often in favour of more substantial bull bars as many of the smaller 'nudge bars' fitted as factory options would not protect against hitting a large animal at speed.
There was uncertainty about what is required for bull bars to meet Australian design standards set in 2003. Vehicle owners have bought bull bars from vendors who are selling the bull bars in good faith, believing that they comply with the rules.
The New South Wales vehicle standards working group has come up with an interim solution – this has seen input from the Motor Traders Association of NSW, Confederation of Australian Motor Sports Limited, NRMA, 4WD NSW and ACT, Roads and Maritime, NSW police and others.
Minister Duncan Gay said, "In recent weeks it's become obvious certain five-post bull bars get entangled in Australian Design Rules for vehicle frontal protection systems. Current rules for the use of bull bars in NSW were enacted by regulation on 1 January 2003.
"If anyone is in any doubt they should go to the RMS authorised unregistered vehicle inspection station to make sure it's OK. If people have already been issued with a defect notice and the bull bars are close, the defect notice now won't apply.
"I have genuine concerns that people have purchased bull bars in good faith and are now subject to a police compliance campaign."
Smaller bars with no protrusions may be OK, or at least qualify for an exemption. Bars that are within a reasonable tolerance of the requirements of the Australian Design rule will be given a 2-year exemption from the regulation.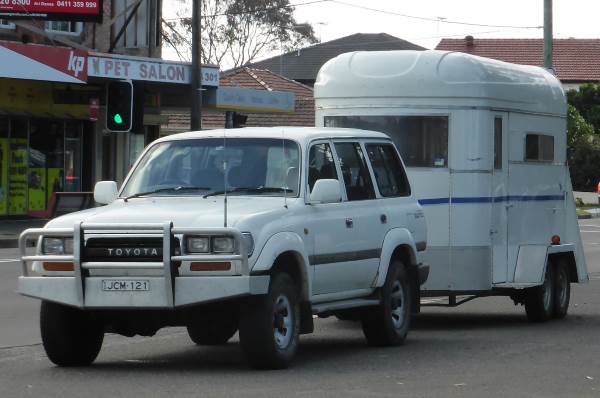 People living in regional New South Wales are strongly in favour of bull bars to protect their vehicles against wandering stock and other animals, and their needs have been considered by policymakers in the city. Some vehicles are fitted with badly designed bull bars with pointed corners and sharp edges, and some are fitted with accessories which protrude beyond the bumper bar or bull bar.
Protrusions and some methods of attachment to the front of vehicles present a danger to other road users and increase the likelihood of injury or damage to a person or another vehicle making contact with the vehicle. An accessory or bull bar fitted to a vehicle must therefore be attached in a manner that does not affect the continuing compliance of the vehicle with the Australian Design Rules and Regulations.
Brackets and lights protruding forward of the bull bar, and bull bars with either sharp edges or accessories such as fishing rod holders or brackets supporting aerials or lights will be looked at.
Items such as winches and aerials should be removed after the need has past.
Roads & Maritime's guidance is this:
For safety reasons it is illegal to have:
Any attachment or protrusion projecting forward of bull bar or bumper bar which presents a danger to other road users.

Note that any aerials or winches which cannot meet this requirement should be removed after the operational need is completed. Emergency and rescue (State Rescue Board-accredited rescue vehicles, mines rescue) vehicles may have a constant operational need for this equipment and will not be rejected. Minor protrusions forward of the bull bar or bumper bar such as a spotlight, or fairleads required for the operation of a winch, where the mounting brackets do not protrude, are permitted providing the protrusion is the minimum necessary and is blunt or protected to minimise any risk of injury to vulnerable road users.

Any sharp or ragged edge or corner on a bull bar which could cause injury to a person coming into contact with the bull bar.
Any bull bar or other attachment that does not allow the driver a view of the road and of the traffic to the front and side of the vehicle so that the driver can drive the vehicle safely.