When it comes to choosing your speed on the road, there are three definitions that are useful to know:
Excessive speed: any speed above the speed limit, e.g. 120km/h on a road with a limit of 100km/h
Inappropriate speed: any speed under the speed limit, but too fast for the conditions or the driver's skill. For example, driving at 95km/h on a motorway in torrential rain when visibility is less than 50m and there are large patches of standing water
Safe speed: a speed at which both the vehicle and driver are capable of handling typical scenarios that would happen on that stretch of road without posing a danger to other road users.
It's best summed up in this diagram: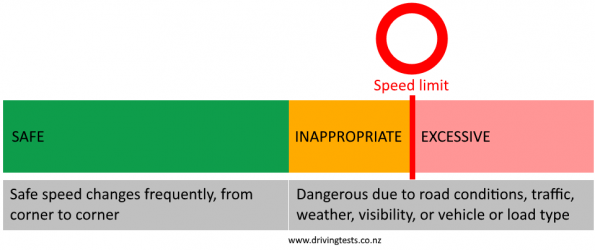 How do you know what is a 'safe speed'?
The safe speed is determined by the characteristics of the road, the capabilities of your vehicle, the weather, how far you can see ahead and whether there are any other road users.