A dog trailer (also called a full trailer in many countries), has at least one axle at either end of the trailer plus a drawbar at the front which connects to a bolt and pin coupling using a towing eye. These couplings are made by companies such as Ringfeder, V. Orlandi and Rockinger and added to the truck, whereas the trailer drawbar and towing eye will be made by the trailer manufacturer.
Jackknife bending
Even though the drawbar is made from steel, it's possible to bend it through jackknifing the trailer. When turning the trailer, if the drawbar is pulled sideways further than the coupling will bend, it will create a bend in the drawbar and towing eye.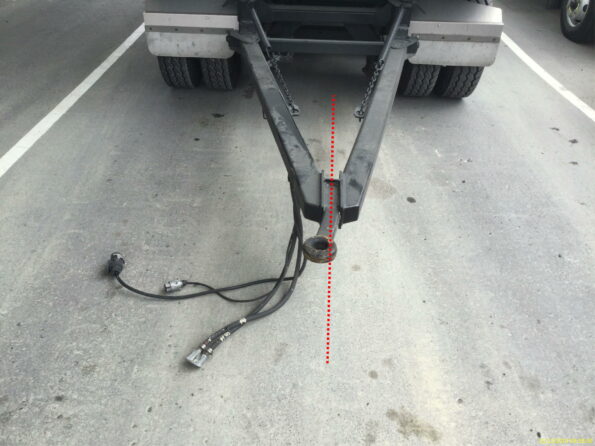 This kind of jackknifing can also damage the coupling.
Newer trucks have jackknife sensors. If the drawbar moves the white levers on either side of the coupling, an alarm sounds in the cab.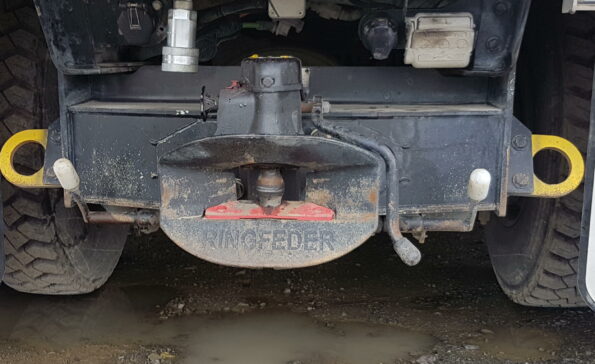 Jackknifing needs proper training.
The towing eye itself can be distorted. Shock loading it, or trying to pull loads which are too heavy, can stretch or elongate the towing eye, while backing in too quickly can dent or squash the towing eye.
Bolt-in and bolt-on towing eyes
It's most common to have welded towing eyes – these are preferable – but there are some bolt-in and bolt-on towing eyes. Bolts need to be torqued properly. If bolts fail, it can shear the rest of them off.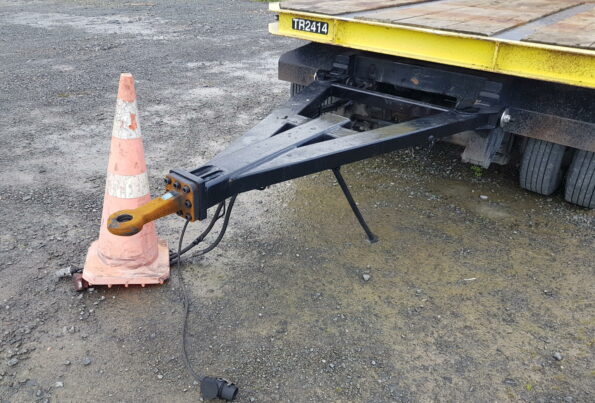 Bolt-in towing eyes fasten with one bolt at the back.
Impact damage
Backing up to the trailer too quickly can cause impact damage on the funnel.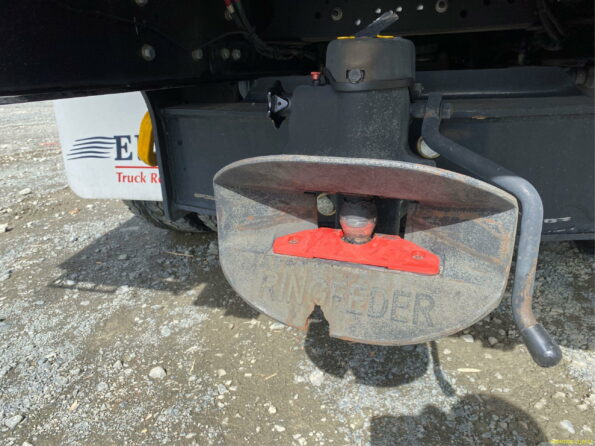 When backing up the trailer, first check that the towing eye is the right height for the coupling. Then bring it in slowly until you feel the resistance of the towing eye in the coupling.
Spring and chain damage
Longer drawbars are held up by springs and chains. Check the chain periodically for corrosion. The springs will gradually give and the drawbar will start to sag. You can pull the chain in one link to lift it up again.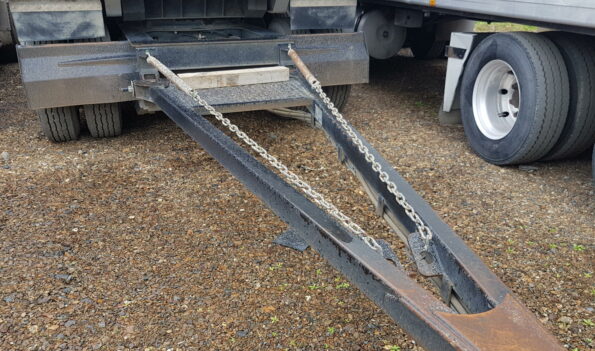 Cable damage
The supply lines to the trailer can be easily damaged if not stowed properly. In the image below, the trimatic connector has been left on the ground. Fortunately the EBS and hydraulic line are off the ground.
Check the lines for damage when you plug them into the truck.