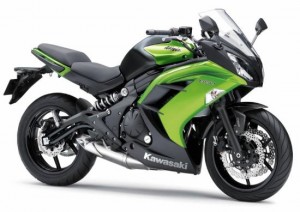 Novice riders are only allowed to ride motorbikes approved under the Learner Approved Motorcycle (LAM) scheme. If you consider riding a motorbike like playing a video game, you wouldn't expect to start at level 10 because you will quickly die a pixellated death, except in real life it'll be messier.
On a powerful motorbike everything is more extreme: either acceleration, braking and cornering are enhanced in the case of a sports or enduro bike, or the bulk and weight of a large-capacity cruiser or touring bike means that you have less cornering and braking ability, will possibly need more strength and better technique, and you'll have to compensate for that. As a learner rider you need to build up your skills so that your reactions are improved, your confidence increases and your awareness of your speed and surroundings is sharpened.
LAM scheme-approved bikes have low to moderate levels of power, fairly benign handling, good braking and are reasonably priced. They are able to be ridden by riders on a learner or provisional licence.
Roads and Maritime produces a publication called Approved Motorcycles for Novice Riders, and it lists all the current bikes that you can ride as a learner. They will be under 660cc and won't exceed a power-to-weight ratio of 150kW per tonne.
All motorcycles up to 660cc built before December 1960 are approved, all motorcycles and scooters with electric powered engines are approved, and all motorbikes with an engine capacity under 260cc are approved with the exception of these sport-focused bikes:
Suzuki – RGV250
Kawasaki – KR250 (KR-1 and KR1s models)
Honda – NSR250
Yamaha – TZR250
Aprilia – RS250
Motorbikes cannot be modified or restricted in order to qualify under the scheme, i.e. you can't buy a Suzuki RGV250 and reduce the power-to-weight ratio and ride it on a learner licence.
It's the rider's responsibility to ensure that the bike they are riding is on the approved list, which you can view here.