A study by Austroads has revealed the factors that increase your risk of having a motorbike crash.
Riders using sports motorbikes have greater odds of being involved in serious injury crashes and older riders using sports motorbikes have an even greater risk. Sports motorbikes have a less relaxed riding position, can have twitchy handling and are designed to go fast.
Riding an unfamiliar motorbike increases the risk of being in a crash.
Route familiarity increases crash risk, i.e. if you ride the same route every day, you may become complacent about its dangers.
Older riders have a lower overall risk of crashing but spend much longer in hospital as a result of crashes compared to younger riders.
Riders who wear full protective gear (i.e. not just a helmet) showed much less risk of being in a crash, presumably because of overall attitudes about rider safety and that protective equipment (particularly the right gloves and boots) give you better control over your bike. Impact protectors didn't seem to make much difference, though.
Recreational riding increases the risk vs commuting.
Most injuries are minor and involve the legs and arms, but serious injuries mainly involved the torso (mostly the chest). As all riders wear helmets, head injuries are infrequent but facial injuries are common in riders that don't wear full face helmets as the predominant impact point is in a crash is the face or forehead. Neck injuries can occur. Arm and leg injuries are mainly caused by contact with the road surface and vegetation, torso injuries are mainly caused by contact with other vehicles and roadside objects like guardrails and pelvis injuries are mainly caused by contact with the fuel tank. Read more about motorcyclist injuries.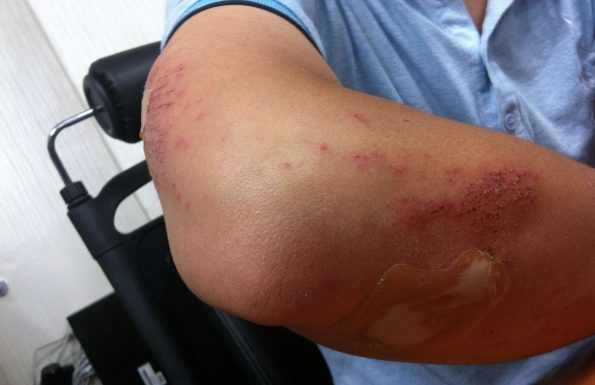 Riders need to be seen
Bikes have a small profile and are difficult to see, drivers find it hard to judge motorcycle speed, motorbike riders often choose poor lane positions, and roads often have vegetation or signage that obscures motorcyclists from other road users
Riders need to stop in time
Riders should choose a motorbike with antilock braking and must maintain their suspension, tyres and brakes. They must also learn the best road position to use so that they have an excellent view of developing hazards ahead.
Riders need to maintain control
Motorbikes are inherently unstable and it's easy to travel at an inappropriate speed, but the roads are frequently unforgiving and contain potholes and loose stones that make it harder for a motorcyclist to control their bike. Read about 11 types of road surfaces that are dangerous to riders.
Riders need to have more experience
Inexperienced riders should not choose routes and motorbikes that exceed their skill level.
Lockdowns and other restrictions: have they impacted motorbike fatalities?
Various lockdowns due to Covid saw a dramatic reduction in traffic volumes due to people only being able to travel for essential work. Since then, people have been working from home more. A motorbike is the ideal mode of transport for social distancing, and a study by Bennetts Insurance on UK motorbike riders showed that more people were using their motorbikes for commuting so that they avoided crowded public transport.
In Australia, New South Wales saw a reduction of almost 28% in motorbike rider road deaths, Victoria was down 23.3% and Tasmania down 14.3%, but SA and QLD were up 11.8 and 20% respectively. The cumulative figures were 210 motorcyclist deaths in 2019 and 190 in 2020, a difference of about 10%.
UK figures still showed that a majority of motorbike trips were made for pleasure after lockdowns eased.