When you get a new car, you get peace of mind from a manufacturer's auto warranty that typically comes with it. This means your wallet won't take a hit if mechanical or performance issues occur. An example of this is if something happens to the powertrain.
If you're up to it, purchasing a more extended and comprehensive coverage could also provide extra benefits like roadside assistance, car rental, towing, and trip reimbursements. For example, having Protect My Car coverage protects you from a car breakdown if something untoward happens on the road.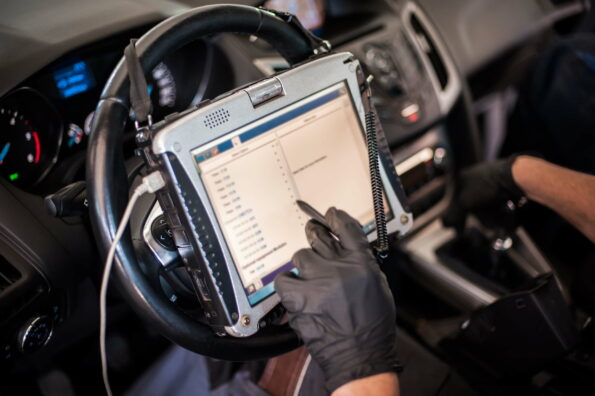 What is an auto warranty?
A new car always comes with a limited factory warranty, usually covering three to 10 years or 60,000-160,000 km, whichever comes first. It is a guarantee or contract that your automaker produces when you buy the vehicle. It shows their confidence in their cars, covering repairs or replacements on defective auto parts and damage resulting from these defects. On top of that, it also covers issues that could result from faulty workmanship.
The factory car warranty comes in the form of a document containing all the fine print, written in legalese, so it's important to understand everything. This includes inclusions and exceptions. In general, most warranties cover the same issues as powertrains, but they may have minor differences, too, such as the perks of roadside assistance or the number of miles covered. Notably, under no circumstances will you pay for this factory warranty.
However, extended auto warranties are different since you can get them from a dealer or a third-party provider. There are service tiers and plans with varying prices. They have many variations in terms of what's covered. These may include specifications on deductibles and where to get the vehicle repaired. Finding a good, reputable provider who won't shortchange you when it's time to file a claim is important.
The evolution of the auto warranty
The first automobile warranty came with the release of the first mass-produced car, the Model T Ford in the 1920s. Henry Ford created the very first automobile assembly line and supply chains, which became the basis of the car industry today. Since he was able to create vehicles consistently with the same quality, the company was able to release the first definable warranty to back their products.
The very first warranty outlived Ford and became his legacy. It was a standard they maintained through the 1950s, and the concept is still used today. Eventually, wear items that are ineligible for repairs became shorter in the warranty list in the 60s. At the same time, the carmakers saw a need for a mileage limit, which was set at 4,000 miles or 6,400 km.
Although the terms for the older warranties seem very minimal today, it doesn't come as a surprise. Remember that the First Model T Ford could only speed up to around 40 miles per hour. It could only traverse minimal distances compared to today's modern vehicles. But despite the limited terms, these original warranties laid the foundation for today's factory warranties. Since innovation is constantly evolving, auto warranty terms have also changed to keep up with the demands and the needs of today's modern consumers.
What do auto warranties cover?
Generally, a new car warranty covers defects or failures based on how automakers built the vehicle. For example, if your entertainment system or power window motor conks out within the coverage period, you can take it to the dealership for a free repair. There's no deductible to worry about, and you don't have to haggle because labor fees are included. This warranty usually ends after a certain number of years or miles, whichever you hit first.
Notably, your new car warranty comes with different types of coverage referring to different parts and time frames. The duration and inclusions vary depending on your automaker. Some companies include extras like 24/7 roadside assistance or free towing. Check out the different warranties that may come with your new vehicle:
Comprehensive: Also known as a bumper-to-bumper or basic warranty that covers the vehicle's systems.
Powertrain: This covers all the components that make your vehicle move. Examples are the engine and transmission, along with the axles and differentials.
Corrosion and Perforation: These are critical in areas with heavy snow. Rusting of metal is a common culprit in these areas due to the constant wetness and salt (to prevent slippery roads).
Emissions Systems: The government mandates that automakers provide a special warranty for the car's emission-control system. If your car fails that state-mandated emissions test in the first two years, it must be responsible for repairs.
These are just a few specific examples of warranties. Others may include tyre warranties, restraint system warranties, and battery warranties for electric cars and hybrids.
Exclusions and limitations
When you check your warranty, you'll note that it comes with numerous exclusions or limitations. These are the things that the car dealer won't pay for. These could include items that need periodic maintenance, like an oil change or tune-up. Moreover, the warranty normally doesn't cover parts that receive much wear and tear, like tyres, brakes, and windshield wipers.
In addition, the warranty coverage doesn't factor in defects from neglect as well as accidents like bumper-to-bumper collisions or acts of nature like damage to the body and glass due to hail. Your car insurance provider is responsible for these things, not the automobile manufacturer. For instance, if you never took your car for the recommended oil changes and have no records for these, they won't cover the cost of repairs to your vehicle if the engine fails.
If you typically abuse your vehicle by bringing it to the racetrack, your claim for coverage may be denied. The same rules apply to heavily modified vehicles, like those lifted for off-road use or with modified engines for racing. Your warranty can also become invalid if you tow a heavy trailer above your car's capabilities. You should find this limit in the trailer section of your car manual.