Trucks are either rigid, rigid in combination (short, medium or long) or prime movers (tractor units) in short or multi-combination. If you're looking for a job driving a truck check this article. The types of loads and trailers they haul are:
Automotive haulage: transport cars on a car transporter. Specific skills are required for loading and operation of this type of trailer. You may be expected to help valet the cars at the other end.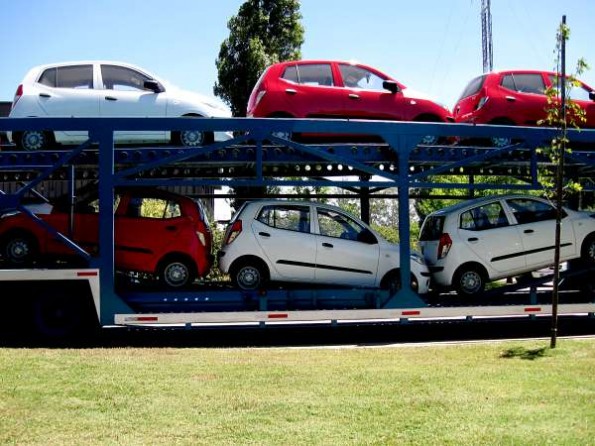 Boat haulage: small boats can often be transported pulling them with a small truck or even a car, but larger boats require specialised low trailers ("lowboy") and may need to have pilot vehicles and a transportation plan to avoid low bridges if they are oversized. The lowboy trailers allow extra height in the load.
Dry goods: the majority of freight is dry goods hauled in a box body or curtain-sider small or medium rigid truck, or using a container truck or articulated curtain-sider semi-trailer.
Flat-bed: a flat truck often used to carry other vehicles or large bulky items like concrete pipes and water tanks. Specialised flat-bed trailers are used for forestry. Some flat-bed trailers tilt to allow vehicles to get on from the rear.
Some flat-bed trailers have specific purposes such as carrying super-heavy loads and oversized equipment such as cranes and mining equipment
Furniture: also called Luton peak bodies, these are box vans with an additional section over the top of the cab. The interior of these trucks has many anchor points for tying down the furniture. Some furniture trucks are large and articulated.
Livestock: trucks that carry live animals such as sheep and cattle.
Reefers or refrigerated containers and trucks: these haul frozen, refrigerated or temperature-sensitive goods. They can be separate containers (standard size), or a box truck.
Specialist trucks: trucks such as tow trucks, cement mixers, cranes, mining trucks, airport trucks, road maintenance vehicles, etc.
Tankers: tankers carry liquids like milk, petrol and chemicals, as well as dry, easy-flowing bulk materials such as sugar, flour and cement.  You may need special certifications (e.g. hazardous goods), depending on which type of products you transport.
Tippers or dump trailers: tipper trucks usually transport building materials such as aggregates and sand. They can tip backwards or sideways depending on their configuration.
As well as those specific types of trailer, there are delineations:
Semi-trailer: has one axle group near the rear and an attachment to a prime mover at the front
B-double trailer (also called a B-train): it's the lead trailer in a B-double combination and has one group of axles at the rear which have, above them, an attachment for a following trailer, plus at the front it has an attachment for the prime mover
Pig trailer: one group of axles near the middle of the load, and drawn by a drawbar
Dog trailer: one axle or group at the front which steers and another axle or group at the rear that doesn't steer. It's drawn by an A-frame drawbar.
Standard trucks might also have modifications made to allow them to carry specific loads, such as trucks that carry large panes of glass on the side.