Mountainous regions are full of beauty and fantastic views, but the roads are more dangerous and drivers need to be aware of how they can stay safe, whether they're driving in Australia or on holiday overseas.
Changeable weather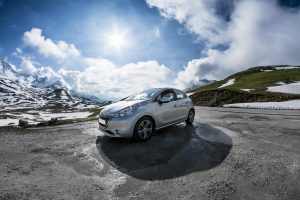 Mountain weather can change very rapidly and while it might be sunny and warm at the bottom of the mountain, 1500m up it can be cold and foggy with remnant icy patches on shaded corners. Mountain roads are often subjected to blustery winds and snowfall. The higher you go, the colder the temperature becomes. Mountain roads are blocked more frequently than lowland roads and you may be forced to turn back or wait for help to come. Check for weather warnings in the area you are driving to.
Steep drops and narrow roads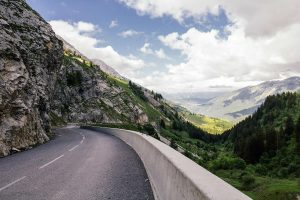 Some mountain roads are wide with gentle curves but many are quite narrow as they wind their way up the side of the mountain. Some roads are unsuitable for long vehicles like trucks or cars pulling caravans (for example, McKillops Road in the Snowy River National Park.
It's expensive to create roads in mountainous regions because they have to be blasted out of the rock. Therefore, they tend to have narrower lanes and, in some cases, are simply one lane. Narrower lanes mean less margin for error and, on tight corners, long vehicles often need to swing out wide to get around (something you'll see a lot of if you drive in the European Alps or the Pyrenees.
You'll be much closer to a precipitous drop on one side and a rocky cliff on the other side. If you do go off the road, you might end up so far down the bank that other motorists can't see you. If you're trapped in your car, there may be no way out. Emergency services might be hours away even if you are found.
Difficulties overtaking
A certain amount of patience is needed to drive on mountain roads because it's not always easy to overtake. If you are the one driving slowly, be sure to pull over where possible and let other motorists overtake you.
Be prepared for emergencies
Let someone know your travel itinerary. If the area you're driving in is likely to have snowfall, take snow chains, an ice scraper, a shovel, warm blankets, gloves and a torch. You should have enough food and water in your vehicle for at least an overnight wait in case you get snowed in. Stay in your vehicle if you get trapped by snow unless you have direct line of sight to an easily accessible house or significantly better shelter. It's much easier for emergency services to locate you in your car rather than out of it and once the road is clear you will need to move your car out of the way of other motorists.
Fuel
Do you have enough fuel to get to your next stop? What about if you had to take a detour? Remote service stations can be expensive places to fill up. If you're driving slowly up steep hills, your fuel economy will be worse than expected. Remember that as you gain altitude, your engine doesn't produce as much power because the air is thinner.
Safe cornering and braking
Speed control is the key driving skill on mountain roads. It takes a lot longer to stop when you are travelling downhill, particularly if you are in a heavily loaded car, a car pulling a trailer or a heavy vehicle. Remember that corners are often very tight on mountainsides as they wind their way down the gradient; take note of any advisory speed signs. Get your speed and gear right before you get to the downhill part so that you preserve your brakes; it's easy to get brake fade if you are constantly on your brakes.
Give way to vehicles driving uphill
This is the law and it means that you need to control your speed going downhill so that you can stop in time. Drivers going uphill should be in a gear which doesn't make the engine race, but also doesn't feel like it's struggling.  Automatic gearboxes should find the right gear most of the time but can sometimes 'hunt' between two gears which can be frustrating for a driver; if you have a manual mode or a gear hold feature, use that to hold it in the right gear.
Scenery and wildlife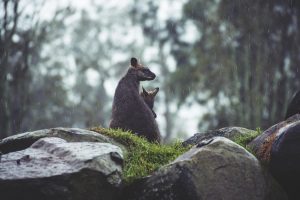 Remote regions mean fewer humans and more animals. Australia has some sizeable animals that can cause significant damage if you hit them, from cattle and camels to wombats, wallabies and roos. So you'll need to pay attention to the road and the verges rather than being distracted by the spectacular scenery. If you want to stop and look at the view, pull over in a safe place or use a designated rest stop.
Visibility
Driving uphill points your vehicle towards the sun which can make sun dazzle or sun strike particularly annoying, especially in winter when the sun is lower. On the shaded side of the mountain, visibility will be less and icy patches can remain in sheltered spots higher up. Driving with your lights on is a good idea.
Know your route
Cellphone coverage and GPS performance might be patchy. If you can download the maps to your cellphone, that's handy.
Unpaved roads
You'll increase your risk of a puncture on unpaved roads. Make sure you're travelling at a safe speed and watch out for big rocks that can cause damage.
Landslides and washouts
Landslides are common after heavy rain and in the spring melt, although they can happen at any time. If you've ever come around a corner only to be faced with one of the lanes completely covered in rocks, soil and trees with no warning, you'll know what a heart-in-the-mouth moment it can be. Even a small boulder can completely smash your radiator, rendering your car useless.
Washouts are where part of the road, or the substrate under the road, washes away in a landslide below the road level. At night, these are extremely dangerous as they are difficult to see.