A car's paintwork can really degrade its value due to fading because of harsh weather elements, through wear and tear, and scratches. A great way to return it to its previous state is by adding a fresh coat of paint. This article discusses some reasons to repaint your car, how to do it, and how to maintain it afterwards. 
Reasons to repaint your car
Restore and protect
Over time, a car is exposed to a lot of environmental factors like snow, sunlight, bird droppings, salt from road gritting, and pollutants like acid rain. These continually corrode a car's paint and lead to fading and peeling, which leaves an inconsistent paint finish and can reduce the ability of the paint to protect the body from rust. Putting the car through a car wash can help remove surface-layer pollutants before they cause more damage. A fresh coat of paint (after any remediation), restores the original look and provides a protective layer against the elements.
Increase resale value
For a person who is looking to sell or trade in their vehicle, a fresh coat of paint can be a great investment for them. A well-painted car gives a good first impression, implying that it has been cared for and is properly maintained. It improves the value and gives the seller a selling point and an advantage, as buyers are willing to pay more for cars that are in decent condition.
Express your style
A car is a great way to express your personality as it offers the chance to get creative with it. A person can choose a colour that reflects their personality as well as compliments their aesthetic. It acts like a canvas ready for customization to get to your desired look. It is a chance to make the car uniquely yours. However, totally repainting your vehicle in a different colour is not usually economical as it requires a lot of the car to be disassembled so that all the door sills, engine bay and other metal bits visible within the vehicle are changed, too.
How to do it
Mainly there are two main ways to get your car painted: through a professional or by doing it yourself. The latter is a bit complicated but is doable, so let's dive into how a person can paint their car themselves.
Gather materials
For every DIY project, there is a need to have all the supplies before beginning to avoid unfinished projects. Keeping in mind that this is a car project, it would be an expensive mistake to leave it halfway. So the necessities will include automotive paint, primer, sandpaper, masking tape, plastic sheets or newspaper, respirator, safety glasses, wax, grease remover, nitrile gloves, and a paint sprayer or aerosol cans.
Prepare the surface
After gathering the materials, we get into the actual work, as now it is time to prepare the car for the paint. Make sure to wash it thoroughly to remove all the dirt from the surface. After this, sand the surface with sandpaper with various grits until all the paint is off and you have remained with a smooth surface. After the surface is free of all the old paint, go in with the wax and grease for a bit of cleaning.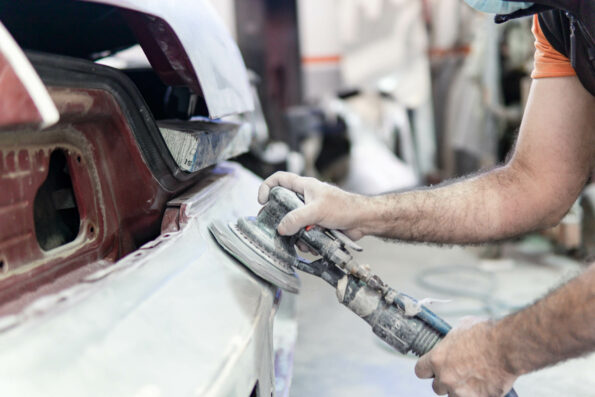 Masking
After cleaning the surfaces, take the newspaper or plastic sheets and cover the areas that you do not want the paint to get on, such as the lights and mirrors; use masking tape to outline these areas.
Priming
It is advisable to apply a coat of priming as a first coat to help the paint stick better with adhesion. It also makes the paint look thicker and brighter.
Painting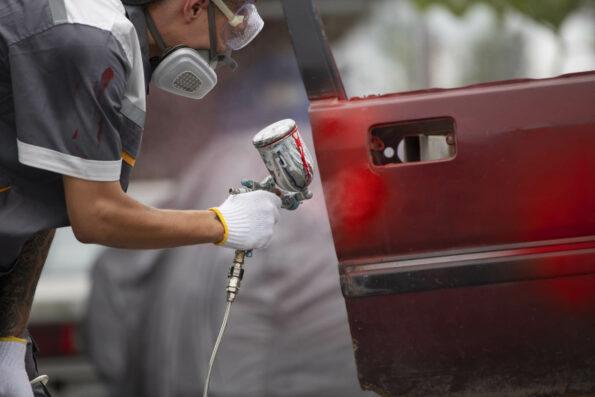 Apply thin coats of the paint at intervals, giving it time to dry before applying the next coat of paint. This adds to the thickening of the paint. After the last coat, a person can choose to add a glossy finish with a clear coat of paint.
The second option would be to take it to a professional automotive shop to paint it. Make sure to research and get price estimates from different shops to get the best deals. It will definitely cost more due to the labour included, but it is a better option for someone who is unable to or lacks the time to paint it for themselves. Professionals have the expertise and equipment and will do a better and quicker job.
How to maintain it
Maintaining a car's paint is a relatively easy task, though it entails a lot of small jobs. A person should ensure that they have regular washes to remove dirt and grime that could potentially damage the paint. Use mild soaps because harsh detergents quickly corrode the paint. Use soft materials like handcloths and avoid things like stiff brushes. When parking the car, ensure that it is protected from direct sunlight as UV rays really affect the paint. Wax the car regularly as it offers a protective layer and minimizes the effects of the sun's rays on the paint. 
Apart from looking good, repainting your car will significantly prolong its lifespan, boosting its resale value and making it more attractive for sale purposes. A new coat of paint may give it a fresh look that will either rejuvenate it back to its old state, create an elemental reflection of your inner feelings and characteristics, or fix a few aesthetic damages it might have developed during the time of service. You can view it as an upgrade to your car's looks and durability with renewed feelings of satisfaction as you drive around the town.