For many people, their car is their pride and joy (not to mention the first or second most expensive thing they will ever purchase!) As such, you will spend a lot of your time preening and polishing your brand-new vehicle and keeping it in tip-top condition so that you keep your investment shiny and in mint condition if you ever choose to sell or upgrade. Nonetheless, if you plan on washing your car yourself, you should avoid some things that could damage your paintwork or worse. Moreover, due to the unique climate and environment of Australia, there are some things you need to be extra careful about.
Overusing water resources
While we all know the overwhelmingly prevalent myth perpetuated by those who have never visited the Lucky Country that it is a barren, dusty desert scape with sandworms a la Dune, the fact remains that water is often in short supply (regardless of the fact that our "home is girt by sea"!), or there is massively too much of it with intense flooding.
While each state has its own water restrictions, you must be conscious of how much water you use to wash your car, and how. If you are in level 2 restrictions you can only use up to 15 litres from a bucket, or go to a commercial car wash with a recycling system. Levels 3, 4 and 5 are even more restrictive – either restricted to certain times of the day, restricted to certain parts of the vehicle (lights, number plates and glass), or banned altogether.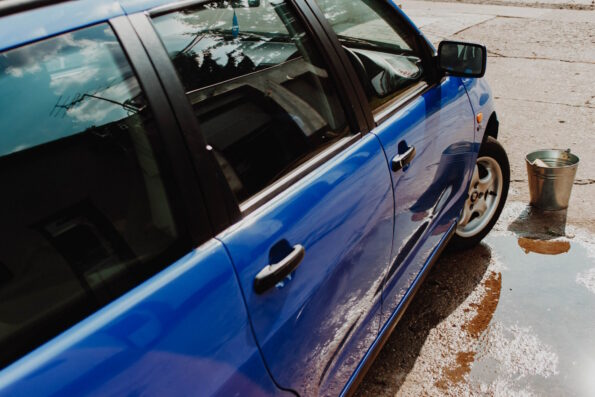 This also brings up the question of detergent-to-water ratios if you want to keep your car clean sans any smears and marks. Since you will use less water, you must carefully measure out the correct amount of cleaning fluid to avoid the injectable streaky marks and residue left over. Using the correct water-to-detergent ratio and rinsing only with the appropriate amount of water will ensure that your car is adequately cleaned and your water resources are not wasted, keeping you within the law and avoiding the significant fines that can come with overuse of water.
Inadequate cleaning supplies and techniques
Everyone has been guilty of attempting to wash their vehicle with vastly inadequate supplies, but you will do so at your peril. Not only will you risk damaging the exterior, but you simply won't get the wash you are hoping for. The techniques and methods are also important. For example, some guano is so robust that you risk scratching the paint right off the body if you opt for an insufficiently strong cleaner or the right preparation. Follow the instructions on the cleaning product itself; some might not be able to be applied under the hot sun, for example. Use a microfibre cleaning pad rather than something that will cause scratches.
Environmentally harmful car washing practices
As the environmentally-conscious Australian you are, you should be concerned about keeping your fair nation clean and hospitable for generations to come. In practice, this means understanding where the wastewater drains and ensuring it stays clear of the main waterways. For extra brownie points, look for cleaners that show their environmental credentials, so you can avoid polluting the groundwater.
Damage to car surfaces
There are lots of things that can cause damage to your car, such as a roo jumping out when you least expect it or parking your car under a tree that produces excessive amounts of sap, or where bats roost. While you can't do much about the former aside from contacting your insurance company, you can protect your paintwork by using the right tools for the job. This might include a simple rag soaked in warm water to remove sap gently and bird droppings and apply a polish that will protect your car from the fierce rays of the Australian sun.
While plenty of things out there want to damage your prized possession, your cleaning habits shouldn't be one of them. By following the tips in this post, you will be well on your way to a car that looks happy and shiny!