Emergency vehicles – police, fire, ambulance, marine rescue and others – use a type of marking called a Sillitoe Tartan. This chequered pattern was introduced in 1961 and gradually adopted nationwide through the 1970s. It is applied in a stripe down the side of the emergency vehicles. On police vehicles it is blue and white (unless it's Australian Federal Police who use black and white).
On fire service vehicles it is yellow and red.
On ambulances the Sillitoe Tartan is red and white.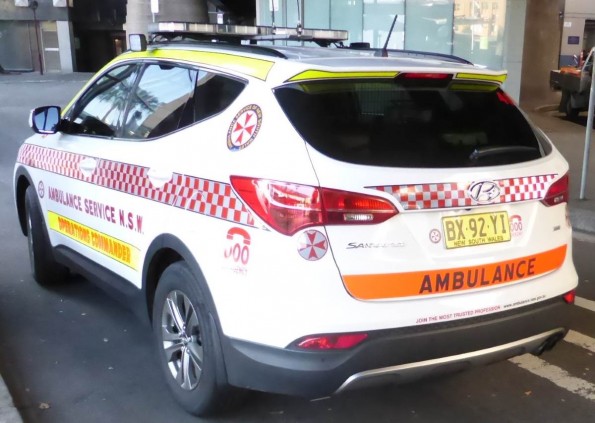 Other services use different colours in New South Wales:
Patient Transport Services and Volunteer Rescue Association use green and white.
Corrective Services use yellow and blue
Roads and Maritime Services use yellow and purple for traffic emergency patrol.
State and Territory Emergency Services use orange and white.
Throughout Australia the Sillitoe Tartan pattern is used, but there are regional variations. For example, the Metropolitan Fire Service in South Australia uses red and blue and the Country Fire Service uses red and orange. In Victoria, VicRoads Transport Safety Services uses green and white, and their Country Fire Authority uses red and white (the same as ambulances in NSW).
The Sillitoe Tartan is extended for use on uniforms and some signs, e.g. speed camera and red light camera signs.