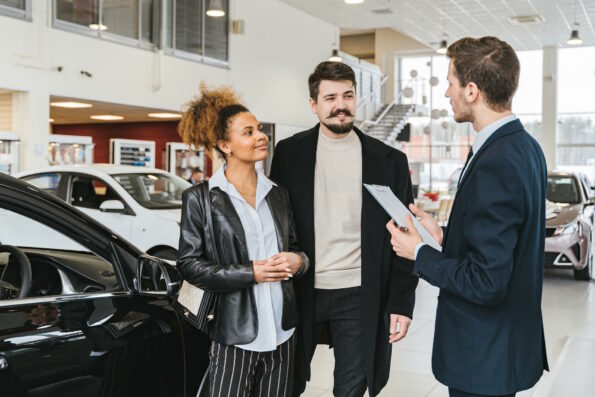 Purchasing your first car is a significant milestone in the life of a modern individual and a process that can be as stressful as it is exciting.
Luckily, we are here to assist you.
From helping you determine your needs and budget to providing post-purchase considerations, this comprehensive guide will ensure your experience of buying your first car goes speeding down the road of success.
Determine your needs and budget
Just like with any major purchase in life, the first step is to always determine your needs and how much money you can spend on a car. Here are a few things to remember.
Assess Your Transportation Needs
It is essential to assess your transportation needs when choosing a suitable car. Some important factors to consider include:
Car usage and purpose
Passenger capacity
Cargo space
Terrain and climate where the car will be driven
Fuel efficiency
Safety features such as collision avoidance technology
Set A Realistic Budget
While the average car price is currently at a whopping $40,916, prices vary greatly.
Therefore, conduct research into the prices of different cars with the specifications and features you require to set a realistic budget.
Just remember you can't get blood from a stone, and you can't expect the latest car technology and advanced features within an unreasonably low budget.
Consider Additional Costs
When you allocate a budget for your car, it should include more than just its selling price. Take into consideration additional costs such as ROLLiN' young driver insurance and maintenance, which vary vehicle by vehicle but are always something you'll need to pay for.
Research and selection
Once you know what you need and have a budget in mind, it's time to go hunting.
Exploring Different Car Types
The first step is to explore different car types that may meet your needs. If you're looking for a car that is spacious, sturdy, and great for outdoor adventures, consider buying an SUV. On the other hand, if you're looking for a family car, you can opt for a minivan.
From sports cars to pickup trucks, there are numerous car types to choose from, so take your time and research carefully.
Research Reputable Car Brands And Models
Once you've determined the car type you want, you can begin researching car brands and models available for you.
When researching reputable car brands and models, you can collect information from multiple resources, including websites, magazines, online forums, and knowledgeable acquaintances.
Reading customer reviews and expert opinions will also provide valuable information from sources other than the brand and help you make an informed decision.
Compare Features, Safety Ratings, And Fuel Efficiency
After conducting research and narrowing down on a few cars, it is important to check their specifications to choose the best option for you.
Compare the features they offer, their safety ratings, and their fuel efficiency to pick a car that provides the best value within your budget and preferences/
Identify Reliable Dealerships Or Private Sellers
Again, use all the resources at your disposal, including the Internet, magazines, and personal recommendations to identify reliable car dealerships or private sellers. Before settling on a dealership, ensure they have the proper certification and licensing required.
Then, check if the car you are looking for is available at those dealerships or sellers.
Inspect And Test Drive The Car
The next step is to thoroughly inspect the car for any signs of damage or mechanical issues, and check maintenance records and vehicle history. You may also seek the help of a mechanic for a professional evaluation.
Also consider giving it a test drive to get a firsthand feel of its performance, comfort, and suitability for your needs.
Explore financing options
Now that you've test driven the car you would like to buy, think about how you would pay for it. Cars can be bought via cash, through a loan, or lease. Although leasing used to be a popular option, more people today are preferring to buy their vehicles, with the number of new bought vehicles increasing by 26% over the past 5 years.
Negotiate the purchase
Once the legwork is done, it is time to negotiate the purchase. Gather price quotes from different dealers to avoid being ripped off.
It is also crucial to be aware of any additional fees and charges that are difficult to detect upfront.
Finally, carefully read or understand the purchase agreement to make sure the terms are agreeable. If you are having trouble understanding the agreement, do not hesitate to ask for clarification. In this case, ignorance is not bliss.
Post-purchase considerations
As the proud owner of your vehicle, there are a few things to keep in mind. First, understand the warranty coverage and terms of your car so that you can revert to the company if any major issues arise.
In addition, be sure to schedule regular maintenance and servicing to keep your car in tip-top shape.
However, you shouldn't have to rush to a professional every time there is a minor problem. So familiarize yourself with minor car problems as soon as you buy a vehicle to avoid freaking out and rushing to a mechanic every time something goes wrong.